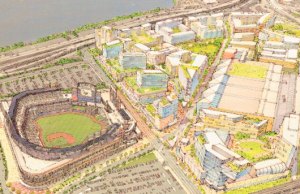 Manhattan's luxury apartment boom ending amid a glut of pricey homes.
The director of Superbad buys a Tribeca condo.
Urban expert Joel Kotkin sees New York's post-boom future in San Francisco.
A third Bloomberg term will spell trouble for Mike's big building projects.
How the financial crisis will spawn a roommate renaissance in Manhattan.
Meet the '08 commercial power brokers!
A London bond firm gets a New York footprint at 444 Madison Avenue.
Parks Department horse stables return to Central Park.
Landlords' grip on the office market ends decisively in the summer.
Manhattan Community College scores a big lease at 25 Broadway.
Communist bookstore Revolution toasts Wall Street's collapse.