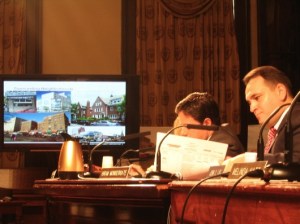 Testifying before a packed hearing at the City Council this morning, Deputy Mayor Robert Lieber announced a set of new property deals in the Bloomberg administration's bid to redevelop Willets Point, including ones involving two members of the main opposition group.
In testimony before a Council subcommittee, Mr. Lieber said the city had reached agreements with three new landowners, with the amount of land controlled by the city up to 12 percent of the private property at the 61-acre site.
Two of the three new deals were done with members of the main opposition group, the Willets Point Industry and Realty Association. The group has fueled opposition on the part of many council members, who have spoken out against the large-scale use of eminent domain. (The deals today were with T. Mina Supply, the Parts Authority and Willets Point Property LLC, together composing three acres on the site.)
With respect to property deals, the city still has a ways to go: With the three deals today, the city has reached agreements with eight out of 74 property owners, and the Council must reject or approve the more than $3 billion project by Nov. 18 [I wrote about the political uncertainty on the plan for this week's print Observer].
Mr. Lieber also announced a new job program for the existing workers, for which the Greater New York Automobile Dealers Association and LaGuardia Community College will create a new training program to put workers in the repair shops of car dealerships.
We'll have more from the hearing later today.