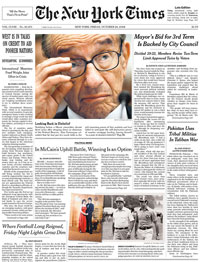 The New York Times has offered its endorsement of Senator Barack Obama for president in an editorial that reads, in part:
As tough as the times are, the selection of a new president is easy. After nearly two years of a grueling and ugly campaign, Senator Barack Obama of Illinois has proved that he is the right choice to be the 44th president of the United States.
The editorial board noted, "Watching him being tested in the campaign has long since erased the reservations that led us to endorse Senator Hillary Rodham Clinton in the Democratic primaries."
The Times is just the latest endorsement for Senator Obama. According to Editor & Publisher's Gregg Mitchell and Dexter Hill's tally, the Democratic nominee now has 127 endorsements. His Republican rival, Senator John McCain, has 49.
Senator Obama has endorsements from publications including The Washington Post, The Chicago Sun-Times (and the Tribune), The Los Angeles Times, The Boston Globe, The Daily News, and this paper. In magazines, he's got The New Republic (which used an odd Pulp Fiction allusion on its homepage), The New Yorker, Esquire, and Vibe.
Among Senator McCain's endorsements: The New York Post, The Boston Herald, and The Las Vegas Review Journal.
What does a Times endorsement mean for Senator Obama? It's hardly a golden ticket if this interactive graphic of their endorsements through the ages shows. The New York Times has endorsed Democrats like John Kerry, Al Gore, Michael Dukakis, Walter Mondale, George McGovern, Hubert Humphrey, and Alfred E. Smith, as well as Republicans like Thomas Dewey, Wendell Willkie, and William H. Taft, none of whom held the highest office.