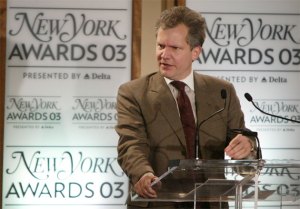 New York just sent out its weekly release previewing stories. Next week's issue will feature "Bleeding 'Times' Blood." Sub-hed: "Has the prestige (and profitability) of owning The New York Times finally sunk below the level required to keep the interest of the Sulzberger clan?"
The story is written by Joe Hagan.
Both New York and Portfolio have been working on profiles simultaneously, but neither wound up scoring an on-the-record interview with New York Times publisher Arthur Sulzberger Jr. The Portfolio story, written by David Margolick, was expected to be in the October issue—complementing Sheelah Kolhatkar's story about Harbinger Capital, the group of investors that has been buying up lots of Times stock—but it was dropped at the last moment.