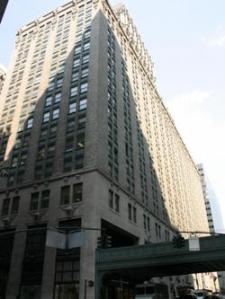 Dutch insurance giant ING Group signed a lease for 9,600 more square feet at Monday Properties' 230 Park Avenue. ING currently occupies 200,000 square feet in the tower. The lease runs from February through April 2013.
Full release below:
ING GROUP ADDS AN ADDITIONAL 9,600 SQUARE FEET IN
MONDAY PROPERTIES' 230 PARK AVENUE
ING Group Adds to its Existing 200,000 SF at 230 Park Ave.
October 20, 2008 (NEW YORK) – ING Group has signed a lease for 9,600 square feet of additional Class A office space at 230 Park Avenue, formerly known as the Helmsley Building, Monday Properties announced today. The new lease will expand ING's North America operation that currently occupies 200,000 square feet at 230 Park Avenue.
"ING's continued growth at 230 Park Avenue reflects the building's exceptional location and work environment for our tenants," said Craig Panzirer, Senior VP of Leasing at Monday Properties. "With a major capital program underway and our commitment to helping tenants grow, 230 Park Avenue will continue to be a focal point for the New York real estate market."
The lease will begin on February 2009 and run through April 2013. As a New York City historic landmark, 230 Park Avenue will enjoy major capital improvements to enhance the building's infrastructure and appearance while preserving its architectural heritage.
Built in 1929, 230 Park Avenue is the crown jewel of Park Avenue commercial space, with 1.4 million square feet of rentable space, direct access to Grand Central Terminal, and two pedestrian through-block arcades. Under Monday's stewardship, the property underwent a $50 million restoration project, which included refinishing the exterior limestone, restoration of the cupola, upgrading of the pedestrian arcades, restoration of retail storefronts and the complete refurbishment of the lobby and common corridors.
About Monday Properties
Since 2002, Monday Properties has completed over $7.75 billion in transactions representing 17.1 million square feet in New York City and metropolitan Washington, DC. Today, Monday Properties owns and/or manages 8 million square feet of assets in these submarkets. Monday Properties co-invests its own capital alongside its partners and investors, creating a clear alignment of interest and an incentive to realize value.