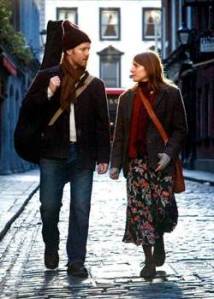 The fact that Glen Hansard and Markéta Irglová managed to perform Once's winning tune "Falling Slowly" at the Oscars earlier this year was a total coup—akin to seeing Elliott Smith finger-pick his way through "Miss Misery" at the same event ten years ago. Still, we've never thought the pair's music  worked quite as well outside the frame of John Carney's camera. Somehow, all that folksy sap seemed appropriate coming from the Guinness-soaked streets of Dublin, less so coming from our stereos.
It's fitting then that Hansard and Irglová have found a home for their music where sap can be the coin of the realm. That would be Broadway. Yup, according to the Los Angeles Times (via Stereogum), Tony-award-winning producers Jeff Sine, Fred Zollo, and John Hart Jr., have purchased the theater rights to Once, and the trio has every intention of bringing the musical to Broadway during the 2010-11 season. "In a landscape where the American musical must evolve, Once provides a wonderful, unique opportunity," Hart told broadwayworld.com. "The film was shot modestly, on a shoe-string budget and managed to capture the hearts of fans around the world, wildly exceeding all critical and box office expectations," Zollo goes on. "It did so, because it invited its audience into the process of artists making music and did not stoop to melodrama." Well… maybe a little stooping.
The project's creative personnel are still very much a mystery, though Nathan Lane and Matthew Broderick are rumored to be involved. Anyway, we're sure you'll be hearing more. For now, you can catch Hansard and Irglová, performing as The Swell Season, on tour this coming November… that is, if you happen to be in western Europe.