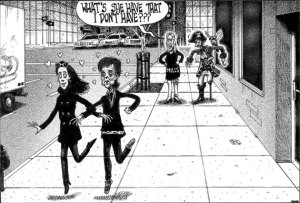 The New York Post's Page Six features an item about being treated to lunch by Heather Mills, the ex-wife of Beatle Paul McCartney.The headline of the piece was HEATHER: A LEG UP ON LUNCH, which apparently is a reference to the fact that Ms. Mills is missing a leg.
Pretty funny stuff. But not as funny as the last time Page Six made the joke: HEATHER LOSES HER P.R. LEG, TOO, July 26, 2008. Or the time before that: NO LEGAL LEG FOR MILLS, February 6, 2008. Or the time before that time: LEGS FOR SALE, November 6, 2007.
It's not just Richard Johnson and his merry band of gossips who love making fun of Ms. Mills' missing leg. How about the paper's news section? PAUL PAYS AN ARM & A LEG, by David K. Li, March 18, 2008. And then there's the television section which went with A LEG UP, by Don Kaplan on April 12, 2007. Before that, Mr. Kaplan employed, BREAK A LEG, HEATHER on March 12, 2007, and his colleague, Linda Stasi had the headline, HEATHER'S GOT LEGS on March 20, 2007.
But none of the jokes have the legs—oh, who could resist?—of the above Sean Delonas cartoon from November 8, 2007, which shows Ms. Mills with a peg-legged pirate (subtle!) griping of Mr. McCartney's new love, "What's she have that I don't have???"
That particular cartoon prompted a spate of letters published on November 13, 2007, including one that reads:
Page Six's cartoons, as usual, are not funny.These Mills McCartney cartoons take a weak message into the realm of cruelty.
They ridicule a person who had her leg amputated, and, in doing so, they denigrate all who have physical handicaps.
It's obvious that The Post is playing into the needs of a stupid and coarse readership who you think will appreciate such base, infantile humor.
Apparently, making a sadist chuckle is a good selling point to you.
Stan Sherr
Manhattan