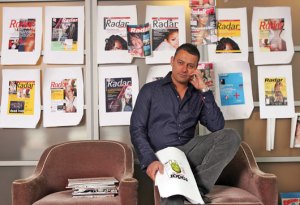 "I basically started Radar because I didn't want to work at any other magazine," said Maer Roshan, the editor of the recently folded magazine. "And after six years, all of it came down to this."
Mr. Roshan was surveying his party, the night before Halloween, which had become a kind of Night of the Living Dead for journalism. "PRINT IS DEAD! LONG LIVE RADAR!" read the invitation, which was retooled after a recent development at the magazine.
Six days before his staff had been given a couple of hours to pack everything at their desks into collapsible white boxes and shove out, after the sudden declaration from his sponsors that the magazine was officially kaput, his staffers, many of whom have been fixtures in the young journalism scene in New York for years now, mingled with their media friends at the bar, Citrine, in Chelsea; not yet officially opened, the walk-up spot, which looks a bit like a Hell's Kitchen gay bar, has already held parties for Edgar Bronfman Jr.'s daughter and Heatherette seamstress Richie Rich.
Mr. Roshan's was a glossy magazine, so there were loads of stylists and photographers around, too, and Shannen Doherty, the magazine's last cover star, who added a weird gallowsy punch line to the invite list.
"When I started Radar, I kept thinking about Jann Wenner, Hugh Heffner and Gloria Steinem and a time when you could actually say, 'I want to start a magazine!' And do it," he said. "That's what always compelled me. I felt like we could be like that."
Instead, this. Free drinks at Citrine, unemployed.
Free for a time from the immediate postmortems, Mr. Roshan was able to take a more general picture of the Manhattan media universe.
"People are much less willing to gamble on ideas," he said. "Those magazines worked because those were visions that people struggled for. All of that has been rounded down by bureaucrats that come up with things like Men's Vogue."
And after all, the bureaucrats aren't doing much better. Earlier that day, Men's Vogue was scaled back from a monthly to a twice-a-year affair. Only so many watches you can sell against fey photo spreads of men in outfits.
The chill even radiated from the gainfully employed.
"I've actually been looking into worst-case-scenario ideas, like being a waiter at Oscar at the Waldorf because I know they're really old there," said Michael Musto, veteran columnist of The Village Voice. "But I've been told those are union positions, so you can't just break into that! I guess I'll be stuck working in an elevator. I don't have any skills." But you know what they say about working in an elevator …
Gabriel Snyder, the new managing editor of Gawker (and a former writer of the Off the Record column at this newspaper), may have taken the last available media job in Manhattan. He was telling us a story about how these sort of crashes have happened before. Remember the dot-com crash? It happened to inside.com. And when they were laid off they were talking about the new jobs they were getting–and David Carr and Kurt Andersen were there!
"Everyone was talking about what their passion was," he said. "'I want to get a job at a fashion company!' Or 'I want to go to cooking school!' A lot of them did get jobs. But a lot of them …"
That's part of the morbid appeal of a party like this—not just to a still-working observer but to everyone, like Graduation Day. Where will we all be five years from now?
Neel Shah, a Radar reporter until a week ago, is one guy we happen to know has not been short on job offers lately. But not even he was sounding very optimistic.
"A friend of mine is an editorial assistant at a magazine," he said. "He's going to go into grad school in visual arts or photography."
Is there no hope left in our line of work?
"You probably can go into the PR world," he said.
Of course the other big news out of Oct. 30 was that at Portfolio, the Condé Nast business glossy, 20 percent of the budget was being cut, and much of the Web staff would be laid off. We found Jeff Bercovici, writer of the Mixed Media blog on portfolio.com, who has missed much of the on-the-ground action this week due to a bout of jury duty. He hasn't been fired, but it was unclear whether he was safe.
"If I were breaking in now, I would learn how to shoot and edit video," he said. He's one of those people with a charming story about falling into his journalism career by accident. A classic tale. That's how all the old greats did it. But it's rare now. There's journalism school. And the inexplicable desirability of this line of work among Ivy Leaguers, which, if you think about it, is a fairly recent development.
"You can't fall on your ass backwards and get into journalism anymore," he said. The question of the night, though, was whether you can fall on your ass backwards and get out.
Ben Widdicombe, former gossip columnist for the Daily News, and currently an editor at large at Star, is spending less time writing and lots of time on TV. What a medium!
"New York is one of the tough cities," he said. "The strong survive, and the weak move to Pittsburgh."