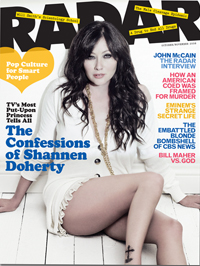 Radar editor Maer Roshan convened his staff late this morning and announced that the magazine would be shutting down immediately. Staffers are expected to clear out their desks by the end of the day.
"The magazine is gone and the Web site is being reincarnated," said a Radar staffer who attended the meeting.
The web site has been sold to AMI and will be redesigned and rebuilt to "become a competitor to TMZ," our source said. David Pecker, C.E.O. of AMI will be installing David Perel, the editor-in-chief of The National Enquirer, as the managing editor of the new Web site. (Updated at 6 PM EST to correct Mr. Pecker's title and include Mr. Perel's name.)
About 25 people, a mix of editorial and ad sales people, gathered in a conference room where Radar regularly has its editorial meetings. Mr. Roshan spoke, as did Yusuf Jackson, one of the investors who has bankrolled the latest version of the magazine. (See Mr. Roshan's thoughts here.)
"All of it was pretty somber, obviously," said our source. "There is some issue currently in the bag that Maer will try to get them to publish, but I don't know if that'll happen or not."
"He said that he was proud that we were nominated for an ASME and that was a point of pride and he felt it started to hit its stride editorially. And now it's been preemptively nipped in the bud."
Mr. Roshan said that some staff may be retained to help build out the Web site, but it is not clear who is staying, and who is going. The Web site will eventually change its "radaronline.com" URL.
Started by Mr. Roshan in 2003, the magazine billed itself as a guide to pop culture, scandal, and style but soon folded. In 2005, Daily News owner Mort Zuckerman and a pre-scandal Jeffrey Epstein invested a reported $25 million in the magazine according to a report by Katharine Q. Seelye in The New York Times, but by December of that year, the magazine had been shut down again. By this time, Radar's ups and downs had become sport for Web site's like Gawker, which delighted in every gory detail of the magazine's demise.
In 2006, the magazine returned with the help of Yusef Jackson. It was widely speculated that Ron Burkle was also an investor. In 2008, it was nominated for a National Magazine Award in the category of General Excellence for circulation between 100,000-250,000.