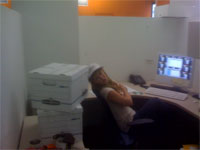 As of 3 P.M. all Radar staffers were expected to leave from their East 45th Street office.
According to a source, editorial staffers have spent the last 90 minutes or so boxing up their belongings, laughing and drinking from bottles of Stella Artois. While they pack, there are apparently some careful eyes watching what they decide to take from the office.
When some staffers have gone up to pick up their severance checks, HR people are making them check off a box that says they are leaving "voluntarily." Maer Roshan said he was informed of the decision this morning.
At 4 P.M., staffers are heading over to Croxley Ales on Avenue B.
Meanwhile, Mr. Roshan is spending his final hours still negotiating with investors to make sure the 16th issue of the third incarnation of Radar is printed.