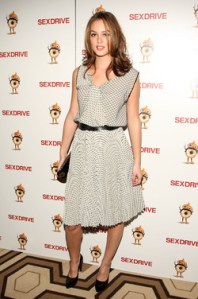 Question: What did polite city-dwellers do, say, the weekend of November 2, 1929, with the markets fully imploded but the world-historical ramifications not yet clear and the breadlines not yet formed?
Answer, if that depression was great like this one: Attend a screening of the latest teen sex comedy (or is that teen-sex comedy?) at the Tribeca Grand.
This past Sunday it was Sex Drive, an oddly restrained little composition in the American Pie school whose craftsman-like simulation of raunch almost made up for its workmanlike impression of heart. The thrill might be gone (surely as much the Daily Transom's problem as the film's), but the mileposts were reached with unimpeachable alacrity: virginity, semen-involving hijink, astonishingly attractive best-friend girl understood as edgy due to darkness of hair, improbable set-up of road trip leading to sex-opportunity (sexportunity?), execution of said road trip, sight gag involving an elder gentleman's scrotum, an imbecilic Seth Green as Amish mechanic, complications to said road-trip and said sex-opportunity, mutual realization of unspoken more-than-friend status with best-friend girl. And: non-virginity.
If the Apatow cabal has recently sold an iPod-like variety of generic sexual bildungsromane-Superbad, The 40-Year-Old Virgin–Sex Drive seems to have emerged fully formed from some Fordist youth-experience factory, which will pump out adolescence (and adolescents) in any color you want as long as it's white. (Others are welcome as supporting characters.)  And, lo, modernity: with the merely unknown Josh Zuckerman as our nerd-hero in place of the profoundly unknowable Michael Cera, this assembly-line commodity is not really any more or less execrable than the fussily bespoke Nick and Norah's Infinite Playlist. The name of the factory is Alloy Entertainment, the content arm of a tentacular advertising concern called Alloy Media + Marketing. You know their work because they're the masterminds behind Gossip Girl, whose nubile cast members-now, is this synergy or co-creation?-made up a good half of the notables at the screening last night.
After the show, Leighton Meester rubbed the stubble of a boyfriend named Sebastian Stan at the bar while Taylor Momsen, hair and skirt both deviously shorn, held court with a bunch of girls who courteously asked the Daily Transom if he was the last one out of the men's room. (Apparently there was a line over at Ladies.) Earlier, in the arrivals zone, Connor Paolo, a very fauny 18, explained why he liked spending time off the set with Ms. Momsen: "Well, she's tall and she's blonde, and I guess that's what American ideology tells us is right."
Mr. Paolo was an unusually able interlocutor for the gathered press.
Which is to say, yes, he has been over to that notorious den of iniquity in Chelsea shared by Ed Westwick and Chace Crawford, and how are their parties? "They roll. Let's just say they roll."
Subsequently tossed a curveball request to name his favorite drink, he missed no beat: "Milk." Celebrity crush? "Judy Dench…. She's a dame, so I'd be knighted."
If only the contemptible Mr. Green, similarly Lilliputian but now closer to 50 than 18, were as gracious. Joke-asked by a young reporter to talk about his own loss of virginity, Kenny Fisher from Can't Hardly Wait (he was 24 already then!) hubba-grunted grotesquely: "I'm hoping tonight, baby, you free?" Yuck.
With such characters in attendance, good thing Katrina Bowden brought her mom. Known as the leggy dumb blonde from 30 Rock, the younger Ms. Bowden, a very mature 20, plays the ostensible sex-destination in Sex Drive. She warned against going on crash diets-"you don't even lose any fat, just water weight"-and extolled the follicular virtues of shea butter.
An impolitic cry came forth, almost involuntarily, from the Daily Transom's companion's lips:  What's it like being so gorgeous?
"It's cool. I guess it's usual to be typecast for a little while."
In response to a follow-up: No, she has never played someone ugly, not even in school productions.
Later, the elder Ms. Bowden, a handsome career IBM employee whose taste runs to sensible sweaters and cabernet, explained that she was no stage mother and always had complete trust in her daughter, who from the age of 14 showed preternatural drive and self-discipline. "She was an honors student, because she knows if this doesn't work out she can always go to college…I'm so proud of her."
Which raised a gnawing thought: Could there be a worse audience for a sub-prime spectacle like Sex Drive? Like Barack Obama, these current and former child actors are the cream of American meritocracy, extracted from obscurity and youth through the sheer force of their talents and grit of their underage wills. (Or their parents'.) What could they possibly make of a movie proposing to show the mating rituals of human teenagers as bitter folks clinging to synthetic body fluids and Fall Out Boy cameos (inexplicable, in this case) in search of meaning?
Gossip Girl, the story as well as the cast, was obviously always meant as escapist fare, but perhaps even the minor aspirations of Sex Drive will soon seem tauntingly foreclosed to this country's young. The vehicle in the picture is a Nixon-era Pontiac GTO Judge. The Daily Transom cornered nominal writer-director Sean Anders, a somewhat disreputable-looking fellow slathered in leather, on this point.
"It was worrying," Mr. Anders admitted, "that you have this movie with a car that has terrible gas mileage when everybody has this on their mind-and the entire economy, really.
"If this movie tanks, I'm going to blame it on that."        
Asked about the potential impact of the credit crisis on his corner of the metaverse, Mr. Paolo was thankfully more sanguine. "We'll see. But I'm pretty sure the Gossip Girl kids are insulated from all that."