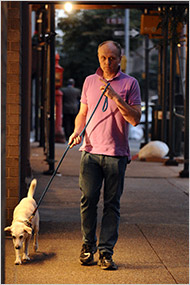 From the Department of I Should Have Such Problems comes the story of the Hobbs family. If the name doesn't ring a bell for you, it's probably because you're not the sort of person who has $400,000 to spend on an end table. But if you're feeling jealous of those who do, you totally shouldn't be! According to The New York Times, a bunch of them probably have been getting majorly punked for the last couple decades.
The Hobbs family consists of a pair of British antiques-dealing brothers, Carlton and John. Up until this past spring, the Hobbses were known as "two of the most successful antiques dealers of their generation," which can mean a lot when your clients are people like "the billionaires Leslie H. Wexner, chairman of Limited Brands, and Stephen A. Schwarzman, chief executive of the Blackstone Group, as well as the influential designers Peter Marino and Bunny Williams." Back in 1993, when the boys were still based out of London, they dissolved their joint business over personal differences. Though they each started their own shops, the issues continued into 2002, when Carlton allegedly informed John's soon-to-be ex-wife of his brother's infidelities, which presumably increased her leverage in divorce court.
Still with us? It only gets more confusing!
Despite all this, the two men continued to share the services of Dennis Buggins, a British furniture restorer, until Carlton decided his prices were too high and sued him. The two eventually settled for $173,000, but then Carlton sued again–this time for millions of dollars–claiming Mr. Buggins had stolen and damaged some of his furniture. In the meantime, Mr. Buggins had hired an independent appraiser to evaluate the value of the Hobbs furniture in his possession. A copy of the report was delivered to Carlton, who took great pains to keep it private, basically because it revealed that many of his exorbitantly priced pieces were not what they seemed.
Meanwhile, John, annoyed by the amount of time Mr. Buggins was devoting to the case, reconnected with his brother in order to encourage him to settle. Carlton sent his estranged brother a copy of the damning report, which implicated both of them in the sale of forgeries. John began to squabble with Mr. Buggins over pricing, which is when the real fun began!
Frustrated, Mr. Buggins decided to go public with the content of the report, which revealed that much of the furniture for sale in both of the brothers' showrooms (in Carlton's case, the $10.3 million Vanderbilt Mansion on East 93rd St.) were "heavily altered." Or, you know, fake. John's part in the mess was made public back in May, but it's only just now that Carlton has also been implicated (John's son, Rupert, helpfully leaked the report to The Times).
Some examples:
-"Two commodes that John Hobbs had sold in the 1990s were withdrawn from a Sotheby's sale in New York — the catalog described them as German neo-Classical, circa 1800, with a high estimate of $300,000 — after The Sunday Times produced evidence that Mr. Buggins had made them."
-"A pair of walnut Bureau Cabinets attributed, in [Carlton] Hobbs's filing to the court, to the 18th-century English cabinetmaker Giles Grendey, said to be worth around $1.5 million. According to Mr. Buggins … he was instructed by Carlton Hobbs to replace the cabinets' pediments and cornices with ones modeled on a known Grendey piece, and to substitute interiors veneered in figured walnut for the original shelves and interiors." As a result, the cabinents were probably worth closer to $100,000.
-"Louis XVI Bureau Plat with Marquetry and gilt bronze mounted by G Haupt, Stockholm 1770, including cartonnier … Mr. Buggins claimed that Mr. Hobbs supplied him with photographs showing construction details of a 1779 bureau plat cartonnier by George Haupt in a museum in Stockholm, along with an early-20th-century reproduction of the piece, and instructed him to alter the reproduction to make it look like an 18th-century original. He said he sourced old oak from a dismantled pre-1760s French oak-timbered barn to cover or replace the existing wood, replaced the veneer on its surface with old saw-cut tulipwood and lined the writing surface with reconditioned leather recovered by divers from a shipwreck." The piece could have sold for around $870,000 had the alterations not been revealed.
-"Mahogany bureau, American, of block front forms, circa 1760 was valued by Carlton Hobbs at about $173,000 … [Mr. Buggins] claimed to have replaced all the drawer fronts with wood from an 18th-century mahogany table leaf, and said that Mr. Hobbs had asked him to refashion the interior, replace the drawer linings, the back panel and all the bracket feet, and cast a new set of handles. [An appraiser] noted that American furniture collectors and museums were willing to pay a lot for 18th-century American furniture, especially pieces with a known provenance or maker, citing the example of a similar bureau, attributed to John Townsend from Newport, R.I., that sold at Christie's in New York in 2004 for $1,911,500."
-"John Hobbs also recently offered 'a pair of painted geometric mirrors, Italian 19th century,' priced at 58,000 pounds (or $115,000). Mr. Buggins, on seeing the memo for these pieces, claimed that they were originally plain frames and that he had added the decorative panels, corner plates and lozenges.
-John Hobbes also offered "a pair of 'Spanish silvered clear and blue foil-backed mirrors, 18th century,' which went for $192,000 in New York in May 2005." Mr. Buggins says they were made "using old mirror plates and old pine, possibly from a church pew."
The Times piece quotes Stephen Drucker, the editor in chief of House Beautiful, who said, "Everybody knows this kind of thing goes on. … But the story never really comes out." Well! We bet there are lot of Hobbs customers who would be interested in Mr. Drucker's definition of "everybody"!