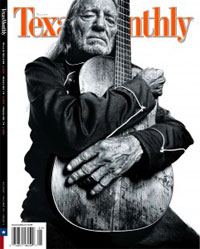 Attention, Paul Begala: Your home state's magazine, Texas Monthly, has a new editor. In a blog post written by the magazine's recently promoted president and editor-in-chief, Evan Smith, we're introduced to Jake Silverstein, the magazine's new editor, and Brian Sweany, its new Special Projects editor.(This comes via Jim Romenesko.)
As Mr. Smith writes:
Yesterday I named Jake Silverstein, a senior editor since joining our staff two years ago, as our next editor — only the fourth person to assume that title in the 35 years since we launched. The Fulbright Scholar, Wesleyan and Michener Center grad, award-winning writer, and Harper's contributing editor will walk in the shoes of the estimable Bill Broyles and Greg Curtis, and he's more than up to figuring out what the next iteration of this still-great publication looks like. But he's not the only one charged with that task. Yesterday I also named Brian Sweany, the literal boy scout from Plano who's been our articles editor for three-plus years and first joined our staff in 1996, to a new position: editor, Special Projects.
Speaking to Media Mob, Mr. Smith said he'll be "pulling back from a 2,000 to a 20,000-foot satellite view" of the magazine's day-to-day operations and is transitioning the publication into a multi-platform media outlet.
In his post, Mr. Smith calls Messrs. Silverstein and Sweany "the future of Texas Monthly." The magazine was recently listed as a finalist for celebrity cover of the year by The Magazine Publishers of America for the above Willie Nelson tribute. (Winners will be announced October 6th.)