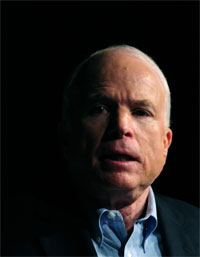 David Kirkpatrick has a piece in The New York Times today about the impact John McCain's five books have had on his self-image and political identity. The McCain we know today, Mr. Kirkpatrick writes, is one that came into existence around 1999, when he and his longtime speechwriter, Mark Salter, wrote his memoir, Faith of My Fathers, and in the process hatched the superhero he has been pretending to be throughout his campaign for the presidency.
As Mr. Kirkpatrick describes it:
Mr. Salter, taking a little literary license, assembled from Mr. McCain's recollections a neat narrative that he had never before articulated. It became a best seller, a television movie and the first of five successful McCain-Salter volumes. And on the eve of Mr. McCain's 2000 Republican primary run, its story line reshaped his political identity. In interviews and speeches, Mr. McCain has increasingly described his life in the book's language and themes, and never more so than during his current campaign, which has turned back to the story of "Faith of My Fathers" for everything from its first television commercial to his speech at the Republican convention.
Politics was imitating art, said Stephen Wayne, a political scientist at Georgetown who has studied Mr. McCain's career and memoir. "It is almost as if McCain had described himself as a literary character," Professor Wayne said, "and then he tried to be that person in real life."
The persona Mr. Salter created for him is inspired by a handful of fictional characters, chief among them Robert Jordan, the hero of Ernest Hemingway's For Whom the Bells Toll. Part of the reason for this, according to his second cousin, is that he grew up in a family of aspiring writers, where "people talked about characters in books as though they were real people."
Do we know if John McCain saw The Dark Knight? If he did, that means he probably also saw the trailer for the film adaptation of Alan Moore's Watchmen, the comic book about a group of people who turn themselves into masked vigilantes in pursuit of desperate fantasies of being superheroes. Watchmen flew off the shelf after Dark Knight came out, prompting its publisher DC Comics to print—as of August 13—an additional 900,000 copies. One wonders whether John McCain bought one of those. Perhaps he should, since the masked vigilante thing doesn't end so well for a lot of the characters.
Anyway, the notion that Mr. McCain has in every substantive regard abandoned the ideals that he admired in all those fictional characters is dismissed in Mr. Kirkpatrick's piece by Mr. Salter as a misunderstanding of what motivates the candidate.
"People who say that kind of thing—I know a lot of reporters who have said it—don't have the faintest concept or grasp of what motivates John McCain and his personal conception of honor," Mr. Salter is quoted as saying in the story. "He earned the right to tell that story."
The man who edited all of Mr. McCain's books, Twelve publisher Jonathan Karp, expressed a similar point of view in a Newsweek article he wrote recently at the request of the magazine's editor, Jon Meacham:
Critics of McCain dismiss [his books] as an exercise in self-mythology and career advancement; they see in them certain ideals—about rabble-rousing and honor, for example—that they say McCain the candidate has abandoned. But I see them differently—as books in which McCain, as narrator and an occasional character, shows us the way to a nobler purpose. I know from personal experience that John McCain is honorable, kind and wise.