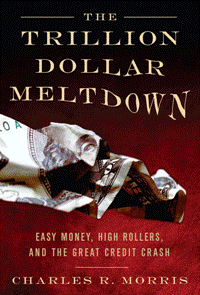 A few weeks ago we noted that a lot of publishers have been quick to find a silver lining in the financial crisis, fluidly moving to either redirect their publicity strategies for banking/money-related titles they've already published, or to refashion ones that they're still working on to better tap into recent developments.
Now we can add to that list Charles Morris's The Trillion Dollar Meltdown, which was published by PublicAffairs back in March. According to Peter Osnos, the founder and editor-at-large of PublicAffairs, Mr. Morris's book will hilariously be reissued once the dust settles under the title The Two Trillion Dollar Meltdown. Double down!
There are at least two other books that have been rechristened as a result of the financial crisis: Harry Dent's The Great Crash of 2009-2010: Surviving and Thriving in the Coming Depression, which Free Press has changed to The Great Depression of 2010-2012: How to Prosper in the Crash that Follows the Greatest Boom in History, and William Cowan's The Meltdown, due out in spring from Doubleday, which has become House of Cards: The Fall of Bear Stearns and the End of the Second Guilded Age.