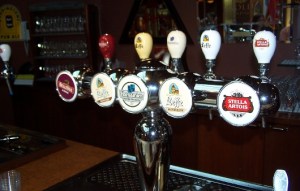 What drink best complements a recession?
"The prevailing view is that beer isn't affected that much by economic ups and downs," said Paul Gatza, director of the Brewers Association, in a Friday email.
The trade group measured taxable beer barrels produced by domestic brewers from 1985 through 2005. In 2001, during the tail end of the last national recession, breweries produced more beer barrels than they had annually in any of the seven years before–over 180 million or a watering 5.58 billion gallons. To find a year when breweries last cleared that mark, you'd have to go to the early 1990s, in and around another recession.
In a time of timorous spending habits and inflated costs amid shrinking job security, beer remains virtually recession-proof.
Wine tends to shed consumers in worse economic climes. Most of the city's topmost beers can be had for under $20 a bottle; the top bottles of wine go for many times that. So long, Chateau Lafite! Hello, Chimay!
"We are starting to see some softness in the high-end spirits and wine products (above $7)," Mr. Gatza wrote, "which may actually be benefiting craft brewers, picking up those drinkers who see craft brewed beer as a great alternative at a different price point."
Breweries will continue to pump along, and retail and bar prices will remain steady citywide. Between 1985 and 2005, the last year for which stats were available, domestic breweries produced at least 175 million taxable barrels of beer annually, with a peak of over 184 million reached in 1990, the year before the tax went from $9 a barrel to $18.
But barring calamity, those prices should stay steady.
On Oct. 2, 2006, a fire ripped through a 40,000-square-foot hops warehouse in the Yakima Valley of Washington State. It destroyed, according to Associated Press reports, 4 percent of the nation's yield of beer's primary flavoring ingredient, and ended up coinciding with lackluster barley and hops crops in Europe, Australia and Asia through 2007.
These factors helped drive up the cost of hops for brewers in the last couple of years, an increase that coincided with food inflation worldwide. That, in turn, caused the price of beer, especially hop-heavier craft ones, to inch up modestly through 2007 and 2008.
A six-pack of toasted lager or India pale ale might run a New Yorker $1 more than in 2006, small beer for drinkers seeking consistency amid the worst economic crisis since Prohibition.
And speaking of Prohibition–it ended nearly four years into the First Great Depression: "Any comparisons to the Great Depression would not be possible," Mr. Gatza wrote of beer production, "as the country was also mired in the public policy brought on by the 18th Amendment from 1920 to 1933. Depression and no beer. That really would have been depressing."