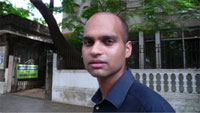 Guardian gossip Tim Walker reported over the weekend that Aravind Adiga, whose debut novel The White Tiger won the Man Booker Prize earlier this month, has abruptly parted ways with the literary agent who got him his £50,000 book deal. Cathryn Summerhayes, of William Morris's UK office, told The Guardian that she has been "sacked," noting that "no reason was given why."
"He just sent a letter to the U.S. office [where he is represented by Jay Mandel] to say that we would no longer be representing him but that we would still look after the book rights," Ms. Summerhayes went on. "I don't think you will find, however, any publisher who said we didn't do a great job on the book and no one had a bad word to say about us."
At the time of this writing, Mr. Adiga's name had not yet appeared on the online client list of the Andrew Wylie Agency.
UPDATE: The Hindu News reports that Mr. Adiga has denied the Guardian story, saying that he actually parted ways with his agent about a year ago because the agent didn't think he was "making enough money." It's unclear which agent he's talking about, Ms. Summerhayes in the UK or Mr. Mandel in the US, but the bottom line it's been a long time since Mr. Adiga has worked with anyone from William Morris on either side of the ocean. The agency is still handling his book, though.
Exactly why this "news" was reported now probably has to do with the fact that no one would have really cared that Mr. Adiga had fired his agent prior to his Booker win. Unclear whether the Guardian reporter knew this was old news and was leaving it vague on purpose: if that is the case, it's an unsavory move, since the implication of the original story was that Mr. Adiga had grown arrogant (or "ambitious" as the headline had it) after winning the Booker and betrayed the people who made it possible in pursuit of a more lucrative arrangement elsewhere. The truth appears to be that Mr. Adiga did no such thing– that he had, in fact, left his agent before anyone in the outside world even cared who his agent was. 
Also: we hear that, contrary to our cheeky insinuation above, Mr. Adiga has in fact not signed with Andrew Wylie.