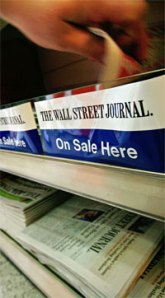 In early September when Robert Thomson and Tina Gaudoin revealed The Wall Street Journal's luxury insert WSJ. at a lavish breakfast for reporters at the Morgan Library, Mr. Thomson, the paper's managing editor and editor in chief of Dow Jones & Company boasted:
'The eschatological angst that characterizes much of the newspaper industry does not define Dow Jones. You'll see when the next round of circulation figures are released just how robust, how rosy our sales are.'
Mr. Thomson had good reason to be confident that morning: His new magazine had an article about Alaska Governor Sarah Palin just days after she was tapped to be the Republican vice presidential nominee. (True, the story by Jen Murphy was exceedingly superficial, focusing only on the governor's workout routine, but since that time, it's pretty clear there's not much more to know about her–and if there is, she's not talking to reporters about it.) The magazine also featured a cover of a model wearing a dress made of newspapers well before the banking and insurance crisis drove untold numbers of women to actually wear dresses made of newspapers. Talk about getting ahead of the news.
As for those "robost" and "rosy" sales figures, well, they couldn't come at a better time, seeing as how the newspaper industry is desperate for something positive to say about itself. Finally, some "eschatological angst"-free news to report! (Who likes eschatological angst anyway?)
Well, sorta. According to a report by Editor & Publisher's Jennifer Saba, those circulation figures (which will be officially released on Monday) are mostly flat.
Writes Ms. Saba:
The paper grew its individually paid circulation, the most important metric, by 2.4% to 1,426,743 copies. At the same time, it chopped its other-paid circulation, which is considered less valuable by advertisers. The Journal reduced other paid by 16% this reporting period to 229,534. The category includes employee, hotel, Newspapers in Education, and third-party copies.
[…]
The Journal made most of the gains in individually paid circulation in the discounted category. Copies sold at more than 25% but less than 50% of the basic price rose by 81,440 compared to the September 2007 report. The Journal uses an introductory price of $99 that includes the print edition and access to WSJ.com. After a certain period, the subscription rate moves to full price.
Ms. Saba concluded, "Small increases and decreases — even fractions of a percentage — are considered major circulation victories."