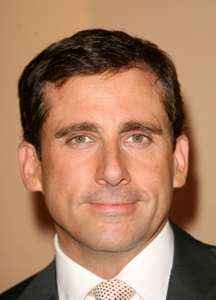 Steve Carell don't break our hearts! No, we're not upset because you've signed on for yet another terrible sounding family film-in this case, Brigadier General, a period comedy (uh-oh) about a French soldier during the Napoleonic wars who thinks he's much braver than he actually is (eeek!). While that certainly sounds bad, we understand that Mr. Carell has to earn a living, especially in this economy. Making a family comedy like that is certainly worth his time; think of it as his version of Night at the Museum.
No, the reason we're crestfallen is because buried in the Hollywood Reporter story about Brigadier General is this disturbing sentence: "[Mr. Carell] is choosing between several feature projects during [his spring hiatus from The Office], including Get Smart 2 for Warner Bros. and Date Night for Fox."
Wait, did we read that correctly? Is Date Night, the sure-to-be amazing comedy starring our man-crush, Mr. Carell, and our hopefully future spouse, Tina Fey, potentially getting tabled? Say it ain't so! We've been looking forward to Date Night for two months! The idea of Mr. Carell and Ms. Fey playing a husband and wife who try to spice up their rote existence sounds so darn appealing that just seeing a trailer for the film could make our hearts stop. We don't even care that Shawn Levy, the dude who actually directed Night at the Museum is at the helm; their pairing is such high-concept comedic gold that no matter who's directing, Date Night is sure to succeed. And yet, Mr. Carell might choose a crappy sequel or a crappy French comedy over it? Ugh! Please, Steve… don't do it. Or, just leave The Office already and make all the movies you want.