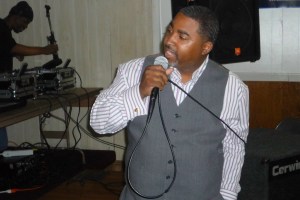 PASSAIC – A crowd packed the VFW Hall on Thursday night as former Councilman Marcellus Jackson, who pled guilty last year to corruption charges and is awaiting sentencing, seized a microphone and launched into a raise-the-roof speech in favor of Vinny Capuana for mayor and Barack Obama for president.
"Vinny's done a lot for us and I'm doing all I can to help him in spite of my present troubles," Jackson told PolitickerNJ.com.
Busted for taking $26,000 in bribes from federal agents posing as members of an insurance agency as part of Operation Broken Boards, Jackson, in the role of emcee, praised Capuana as a loyal man of the people who backed him in tough times.
In his speech, he contrasted Capuana, long serving president of the School Board, with Acting Mayor/Assemblyman Gary Schaer (D-Passaic), who supports School Board member Dr. Alex Blanco in Tuesday's special mayoral election to replace former Mayor Sammy Rivera.
The Feds busted Rivera in the same statewide corruption dragnet that ensnared Jackson.
However, the mostly 2nd Ward crowd, including a smiling, clapping Capuana, appeared less concerned about the former councilman's fall from grace than the prospect of Schaer expanding his power.
"If you vote for Alex Blanco, you will be making Gary Schaer the king of this town," said Jackson. "Get out and vote for Barack Obama and Vinny Capuana!"
The crowd numbered roughly 200 people at this rally sponsored by the Capuana campaign, and featured Obama for President signs on the walls and Capuana for Mayor balloons affixed to the tables.
"I'm here for the Barack Obama portion of the rally," explained Carl Ellen, a rival candidate for mayor who worked the room briefly before leaving.
At a candidates' debate earlier in the evening on the other side of town, Blanco, Ellen, Capuana and Jose Sandoval considered questions about their vision for Passaic. Several of them talked specifically about moving beyond ethnic politics to a united community.
But for now, the city remains stratified among its big ethnic groups: Puerto Ricans, Dominicans, Orthodox Jews and African Americans.
As acting mayor and assemblyman, Schaer is the Orthodox Jewish community's most visible public official, and his support for Blanco gave the Dominican American physician a break-from-the-pack boost earlier this month, with the linkage of two important ethnic bases.
While celebrating what he described as Capuana's appeal to various groups, Jackson accused Schaer of using the people in the room – different ethnicities but mostly black – to consolidate his own power, while now refusing to lend his vigorous support to the Democratic presidential nominee, who is black.
"Gary Schaer was a Republican who turned Democrat – he won because of us," Jackson told the crowd. "But drive by Gary Schaer's house and see if he has a Barack Obama sign.
" In spite of the power brokers telling him to stay out, he supported Alex Blanco," Jackson added to growing jeers. "Come Tuesday, he's going to see he can't defeat us. In the words of Barack Obama, 'Yes, we can!'"
Capuana stood with Jackson at the front of the VFW Hall.
He took the microphone and made a brief speech about his immigrant Sicilian roots and his pride in serving 26 years on the Passaic School Board.
"If you make me mayor, I'll make you proud you voted for Vinny Capuana," said the code enforcement inspector.
Told later about the event, Schaer said, "I was honored to receive Councilman Jackson's endorsement for the Assembly in 2005. I am distraught that Vinny Capuana would see fit to have a soon-to-be convicted felon emcee his campaign event."