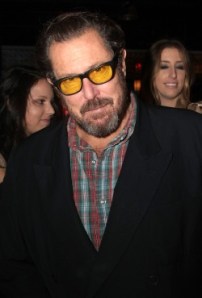 "I thought the mean, grumpy old man thing [John] McCain was doing [at the debate] was sort of out of control," said columnist Kurt Andersen at the Pratt Institute benefit at Chelsea Piers on Oct. 16, where author Barbaralee Diamonstein-Spielvogel and artists Takashi Murakami and Julian Schnabel were being honored for their accomplishments in the art world. "It was stupid, just tactically stupid. All that eye-rolling and that angry grin? Anger plus that grin, the way he does it, I don't think it was a very effective way to make people like him."
A Pratt trustee, Mr. Andersen used to write about design for Time magazine way back when he was still working at Spy magazine. "It was actually a great thing to do while we did Spy because it was a way for me to have my own world outside of the all-consuming life of starting a magazine," he said.
The master of ceremonies for the evening was professional interviewer Charlie Rose, who had invited Mark Halperin, David Brooks, Al Hunt, Doris Kearns Goodwin, Katty Kay, and Maria Bartiromoto on his show for the evening of the debate to host a proper "discussion." (Mr. Rose told Daily Transom that while he's a "political junkie" he is not especially interested in moderating the debates himself; he prefers hosting the post-commentary.)
"Every conversation after the debate has found a theme. This one had to do with motivations and who these people were. Not necessarily so much about what they said, but who they were, what was their ambition?" said Mr. Rose, enunciating the word "ambition" in the same calm, baritone professor voice he employs on his show.
Mr. Rose was briefly interrupted for a few minutes by television host Dick Cavett and former Interview editor Ingrid Sischy, who made their way over for hello kisses.
Despite being a few minutes late to begin the ceremony, he continued. "How do you define their temperament, how do you define their sense of self and how their perception of themselves is different due to the campaign," he said.
We spotted Mr. Schnabel, who arrived in white painter pants bespattered with drops of various shades of paint (no purple pajamas this time!).
"I think McCain looked like a crotchety, angry loser," said Mr. Schnabel, his hands resting in the side pockets of his navy blazer. "I think Obama is going to be president. Wait, no, I pray he's going to be president.
"I mean, what is the problem here?" he continued in a tone of mild outrage. "How do you pick a person to be vice president that you don't know? What kind of cockamamie idea is that? You meet someone for an hour and you decide they're going to be vice president? And if you have a heart attack, they'll be the president? Isn't that nuts?"
And then Mr. Schnabel uttered the phrase said by so many Democrat and Republican celebrities before him.
"He won't be president and if he does, I'm moving," said Mr. Schnabel.