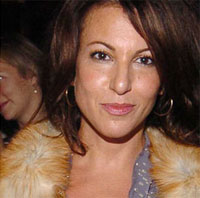 Julie Grau, the glamorous co-publisher of Doubleday's Spiegel & Grau imprint, returns to the pages of Vogue this month with a piece about "the definitive ab-sculpting workout."
Well, why not!
The article is not online, but here's how it starts:
The doumbek was thumpin'. A frenzied melody rose from the oud. A woman with heavy eyeliner and crystals pasted to her temples was shaking her hips at me, her arms extended in undulating arabesques. She wore a cropped shirt that revealed a curvy middle of exaggerated proportions—a small waist that blossomed into generous, womanly hips. A filmy white scarf danced around her legs. She nodded encouragement in a syncopated rhythm as my hips jerkily contracted up and down, up and down. She called herself Rayhana, and she was teaching me to belly dance.
Here are some other sentences from Ms. Grau's article:
—"Checking my wisecracks at the door, I returned to see for myself whether this ancient art would be my path to a thoroughly modern middle."
—"I was in search of a waistline because I knew that trendwise, my luck was about to run out."
—"I had to wrap my head around the anatomical issues at stake."
—"At the barre, we squeeze pristine white playground balls between our thighs as we go through a series of squats and plies that make me whimper in disbelief."
—"On the floor, we pretzel our legs and torque our bodies through an array of exercises that Tanya promises will 'fry the fat off your hips' and get rid of unslightly waistband overhang."
—"After ten classes, the tale of the tape reports reductions all around: I've lost an inch off my waist."
—"That my husband flattened his belly in less than two weeks is but one more of the aforementioned hard truths I've come to accept: Men will realize greater results from lesser efforts."
Ms. Grau and her partner-in-publishing, Cindy Spiegel, launched their first list at Doubleday earlier this year, and are looking forward to publishing the next novel from Water For Elephants-author Sara Gruen and the long-awaited soccer book from New York Times reporter Warren St. John.