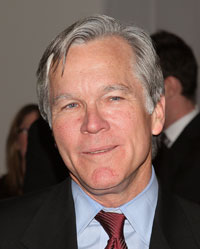 New York Times executive editor Bill Keller denied that there will be any further newsroom job cuts at the Times this morning at his State of the Newsroom meeting, "Throw Stuff at Bill." [Update, October 28th: The Times sessions are actually called "Throw Stuff at Bill."]
"The answer is no," said Mr. Keller, according to an attendee. "No, I do not see another round of newsroom staff reductions on the horizon."
He said that hiring will be "even more selective than before," but the goal is to avoid painful cuts that other newspapers have made.
Earlier this year, the Times cut 100 newsroom positions, leaving the total newsroom body count around 1200—bigger than any other single newspaper's newsroom in the country. At Mr. Keller's last newsroom address, back in February, he announced those job cuts, leaving many staffers wondering if more cuts would be announced again today.
Gawker had recently reported a tip that the newsroom was planning on a 20 percent editorial staff reduction.
Mr. Keller dismissed that rumor by saying, "consider the source." He said that if cuts become necessary, "You will hear it from me before you hear it on Gawker."
According to our source, the sole question that Mr. Keller was asked today was about job cuts and "he answered it, several times."
UPDATE 12:28 pm: Our source clarified that Mr. Keller wasn't asked one question; he was asked several.