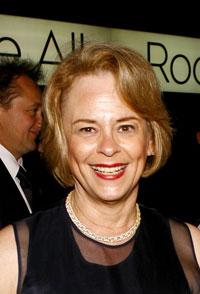 Time, Inc. C.E.O. Ann Moore has said that her three year contract, which is now halfway done, would be her last.
But in today's New York Post, Keith Kelly writes that he's hearing she's going to stay even longer. And she has a found a way to put herself in the good graces of Time Warner chief Jeffrey Bewkes:
Bewkes also has to be pleased that Time Inc., which had about $5.5 billion in revenue and $907 million in profit last year, is now getting about 15 percent of its revenue from digital operations. That's far more than rivals Hearst or Condé Nast collect.
The Web sites for Sports Illustrated and People are among the top 15 revenue-producing units at Time, which has 120 magazines and 40 Web sites worldwide.
The only catch, according to mr. Kelly, is that Time, Inc. is expected to announce a new round of layoffs. "Time Inc. currently has about 7,000 US-based employees, including 3,500 in New York, where most of the cuts are rumored to be centered."