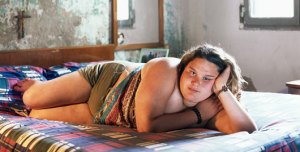 How much of Paris Hilton's crotch—you've seen it on the Internet, I'm sure—any rational person needs is a question asked by Auguries of Innocence, an exhibition of photographs by David LaChapelle at Tony Shafrazi Gallery. Actually, Ms. Hilton only makes a fleeting appearance in what is, essentially, Mr. LaChapelle's debut as a political commentator. War, he wants us to know, is a bad thing.
A protégé of Andy Warhol, Mr. LaChapelle gained renown as a celebrity photographer. His sleek and porno-wise pictures have appeared in Vogue, Vanity Fair and Interview, and have featured, among others, Naomi Campbell, Britney Spears and Jocelyne Wildenstein. Garish display is Mr. LaChapelle's specialty, and it's there to see in his expansive vistas of wounded soldiers, Jesus Christ, pigs fucking, swipes at imperialism, and beautiful young people in various states of undress.
Photography is put in the service of three-dimensional dioramas—oversize pop-up books. The craft is shoddy: Mr. LaChapelle's pictures adhere to poorly cut silhouettes of cardboard—no, they're not "so bad they're good"—and the moving carousel in Holy War was out of service the day I attended. The sheep present in the same work did bleat, which is something, I suppose. The assembled photos of crumpled cars made me pine for Green Car Crash (1963)—at least Warhol's deadpan whimsy had a point.
Mr. LaChapelle is a purposefully mainstream enfant terrible. Andres Serrano, whose exhibition at Yvon Lambert Gallery closed last week, had notoriety thrust upon him, though he certainly had a hand in engineering it. Piss Christ (1987) famously earned the ire of Congressman Jesse Helms, and brought scandal to the National Endowment for the Arts, which had awarded the artist a $15,000 grant. The controversy surrounding the photo of a crucifix submerged in urine guaranteed Mr. Serrano a place in the history books.
But outrage has a short shelf life. Almost 20 years after the fact, Mr. Serrano's recent series, Shit, is a has-been's attempt to rekindle his status as a champion of artistic freedom. With subjects hoarded from animals, the artist himself and his mother, these large-scale photographs of squishy, craggy and dried-out turds aren't particularly provocative—they're high-priced and oh-so-tired novelties. I mean, the New York Post wrote a puff piece on Mr. Serrano and his shit. How shocking can it be?
CATHERINE OPIE'S PHOTOS of mustachioed lesbians, transsexuals, S&M practitioners, piercings and tattoos—her self-described "royal family"—are the subject of a mid-career retrospective at the Guggenheim. They offer yet another study of how in-your-face reputation inevitably turns into play-it-safe art. Ms. Opie appears in two self-portraits: one, with a childlike drawing sliced into her back; in another, she's pierced with a daunting number of what look to be hypodermic needles. The 16th-century painter Hans Holbein is listed as an influence, but Robert Mapplethorpe is closer to the truth.
Not least because Ms. Opie, after her initial splash, became expert in creating handsome pictures that Alfred Stieglitz would've smiled upon. Architecture is the new leitmotif, as is black and white, a palette whose silvery tonalities shows up her previous coloristic sumptuousness as cloying and decorative. Freeway overpasses, Beverly Hills mansions, strip malls, "Bar. B. Q. Pit—100% Natural Juice" and a prophetically deserted Wall Street—they don't quite live up to the catalog's claim of embodying "the utopian notion of difference," but they are fairly adept exercises in abstraction. As such, they're good to look at. But don't kid yourself: Were the photos by anyone else, they'd be dismissed as bland and derivative.
GRACEFULLY SLIPPING UNDER the radar is Alessandra Sanguinetti, whose photos are on display at Yossi Milo Gallery. Collectively titled The Life That Came, the pictures continue an earlier series devoted to Guillermina and Belinda, cousins growing up in rural Argentina. Ms. Sanguinetti established a strong bond with the girls: The photos capture preadolescence with tender insight. Belinda is thin and pretty; Guillermina is chubby—and the camera loves her. Their relationship is suffused with uncanny clarity and magic.
In the new work, the advent of womanhood seems as forlorn as the farmhouse's crumbling environs and surrounding landscape. Mindful of Ms. Sanguinetti's presence, the teenagers, already self-conscious, are guarded. The artist is a gentle voyeur rather than a participant. Diffuse natural light bathes Belinda as she kisses her newborn baby; Guillermina lies on her bed with an awkward sense of budding sexuality. Intimacy gives way to narrative, and this diminishment dulls Ms. Sanguinetti's novelistic vignettes. Still, this is a remarkable achievement—dreamlike, sure and deeply humane.
"David LaChapelle: Auguries of Innocence" is at Tony Shafrazi Gallery, 544 West 26th Street, until Oct. 24; "Catherine Opie: American Photographer" is at the Solomon R. Guggenheim Museum, 1071 Fifth Avenue, until Jan. 7; and "Alessandra Sanguinetti: The Life That Came" is at Yossi Milo Gallery, 525 West 25th Street, until Oct. 18.
mnaves@observer.com.