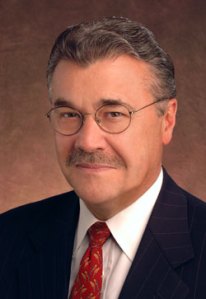 It was a dour Tuesday morning at Michael's, as Cushman & Wakefield brokers and their assorted guests gathered in the back room for the third-quarter office market analysis and scrambled eggs with chives on top.
Joseph Harbert, Cushman's chief operating officer for the New York region, spoke in somber tones, grasping repeatedly for something called "historical perspective" in order to make sense of the ordeal, or at least lessen its apparent magnitude.
The numbers told a stark tale of increasing vacancy rates, dropping rents, and negative absorption.
In Manhattan overall, leasing activity dropped 14.4 percent compared to the third quarter of 2007. Class C space in midtown took a particular hit, with leasing activity down a staggering 53.7 percent. Meanwhile, the amount of available Manhattan office space increased overall 42.2 percent. In the Sixth Avenue/Rockefeller Center sub-sector, total Class A inventory rose a jaw-dropping 96.5 percent. And the United Nations, Park Avenue and Times Square South districts have all actually seen decreases in asking rents.
"Those are very important segments for us, and that's the first time we've seen this kind of drop," Mr. Harbert said.
All of that extra space on the market means that vacancy rates are on the rise, reaching 7.4 percent in Manhattan, up from 7.1 percent in the second quarter and up from 5.7 percent at the end of the third quarter last year. (If that doesn't seem too bad, just remember that statistics historically lag behind reality.)
"We're clearly heading into a tenant's market," the normally cheery Mr. Harbert warned. Indeed, he said net effective rents have dropped as much as 10 percent this year, and could drop 20 percent by the end of 2009.
Meanwhile, there have been no—as in zero—deals of more than 100,000 square feet all year in midtown south.
You'll find no silver lining downtown, where the numbers were gray, gray, gray. Leasing activity was down 16.4 percent. Sure, 2.9 million square feet have been leased to date in 2008 (compared to 3.4 million the year before), but even those not-all-that-discouraging numbers are deceptive.
"A lot of that, if you'll remember, was driven by a deal with AIG," Mr. Harbert said, as the few brokers endowed with darker funny bones let out isolated chuckles. Mr. Harbert was referring to the onetime insurance giant's assumption of the remainder of Goldman Sachs' 800,000-square-foot lease at 180 Maiden Lane in June.
Mr. Harbert didn't waste his breath trying to predict what the next couple of years would hold for downtown, given the demise of AIG, Lehman, et al. "We share your questions," Mr. Harbert said.
And investment sales? Ha. Don't even ask. There have been, Macklowe's lost empire excepted, pretty much none. Sales of buildings worth more than $10 million dropped 55 percent annually, totaling $18.7 billion year-to-date at the third quarter's end, compared to $42.4 billion by that period last year. The last time annual sales fell below $20 billion was in '04.
Even so, Mr. Harbert ended on a resolutely upbeat note, like a mother putting on a brave face for her frightened children:
"I'm an optimist, so I think the next cycle is sooner than you think."
drubinstein@observer.com