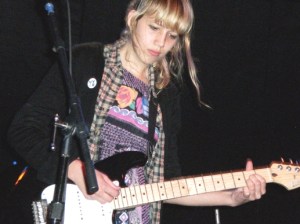 I tried to see the fabulous Vivian Girls Friday night, I really did. But you see, the Cake Shop is tiny. Bands play in a basement the size of a small living room. By the time I showed up around 9—less than midway through a six-band line-up the Vivian Girls were headlining at midnight—the Cake Shop had stopped letting kids with CMJ badges down into the pit. Eighty badges had already been allowed in—that was it. I suppose I could have showed up at 7 and hung out for six hours downstairs, but that I would not do. It was happy hour, and I was hungry.
So it was on to Chinatown's Santos Party House and The Social Registry showcase. The small Greenpoint label favors artists with a penchant for shadowy, corrosive psychadelia, and with the exception of Mike Bones, all the artists on the evening's bill—Sian Alice Group, Psychic Ills, Growing, and the beat-heavy Gang Gang Dance—easily made the cut. Bones was up first, and while it couldn't have been easy for a lonely singer-songwriter to calm a restless CMJ crowd, his open-tuned guitar and flatly self-deprecating lyrics did an admirable job. "Why's everybody always coming down on me?," Mike wondered over and over again as the cameras flashed on his skinny white frame.
England's Sian Alice Group, of which Mr. Bones is a member, make big, cinematic rock that's at turns effortlessly gorgeous and blindly assaultive. Fronted by Ms. Alice—a Nico look-alike dressed all in black with her bangs cut at perfect right angles to her long black hair—the six-piece trudged through densely-rhythmic instrumental passages, free jazz freak-outs, and synth-laden ballads. Despite a few technical difficulties with the band's sound, Sian's woozy soprano managed to knock the audience back on their heels in a mesmerized stupor.
The Psychic Ills seemed to be after the same narcotic effect, though they proved far less successful. The curtain parted to reveal bassist Elizabeth Hart (her black lace braw visible around the edges of a Pinhead tank-top) pacing around the stage with a long string of bells draped around her shoulders, as her band—three dudes with long, scraggly hair—cued up a sound that would remain largely unchanged for the next 40 minutes: drone synth, Afro rhythms, some spacey guitar, and the occasional vocal wrapped in layers of effects. While her boys plodded on, Hart continued her sexpot routine with increasingly diminishing returns.
On my way outside, I noticed The Wire's James Ransone (a.k.a. Ziggy from the second season) standing in a long line for the Gang Gang Dance show. I considered going back. But no, it had been a long week. I had had enough partying at the Santos Party House.
***
On Saturday night—CMJ's last—I would not be denied my Vivian Girls, particularly when they were playing with prog-rock queen, Marnie Stern. After catching a quick set by Luke Temple back at the Red Bull Space, I ran 13 blocks east through the spiting rain to the Bowery Ballroom. Headliners A Place to Bury Strangers wouldn't go until 2am, but before them were Atlanta's All the Saints, Ms. Stern, the Vivs, and Crystal Antlers (who I had seen at Todd P's anti-CMJ show on Wednesday). I showed up half way through the Saints' set, though I saw enough to know the trio sounded like a cross between Spaceman 3 and Atlanta's Deerhunter and that the bassist looked like a cross between Vincent D'Onofrio and Mark Ruffalo—neither of which were bad things.
"That girl can really shred!," a dude standing to my right said after Marnie Stern's first song. None truer words were ever spoken. With a silver guitar featuring a pink paisley pic-guard (to match her pink slippers), Ms. Stern put on a finger-tapping clinic. While her music—a schizophrenic blend of highly-technical guitar-playing and un-danceable time signatures that started and stopped on a dime—is clearly birthed from the bowels of progressive rock, Stern transformed the wonky, male-dominated genre into something entirely her own. (See her sophomore album on Kill Rock Stars, This Is It…) Instead of growling and brooding, Stern stood yelping and grinning at the Bowery—as if Yoko Ono had taken a guest turn fronting the Dillinger Escape Plan. Each song left her pleasantly exhausted, ("I have to quiet smoking," she sighed), much like her grateful audience.
Then, finally, the Vivian Girls appeared. Guitarist Cassie Ramone, drummer Ali, and bassist Kickball Katy (the later sporting milkshake and ostrich tattoos on the same arm), sauntered on stage. Coming after Marnie Stern, it was startling how amateurish the girls' skills were. Every song featured the same C, F, and G chords played with fingers that seemed unsure of each string. Which is not to say, of course, that they rocked any less. I have rarely heard a guitar jangle as hard as Cassie's. While she and Katy traded girl-group harmonies, great sheaths of reverb blurred every guitar chord together into one massive clang! The Vivs didn't play long, but they didn't have to. The trio managed to squeeze a dozen two-minute jams in under a half-hour, every one tense with young lust and kiss-off attitude.
**
While it's tempting to say it's been a long and exhausting CMJ, I'd be indulging in a bit of a cliché, and a dishonest one at that. Five days is no marathon, and when all the shows—and half the booze—are free, times don't seem so tough. When the music's good, life's real easy.