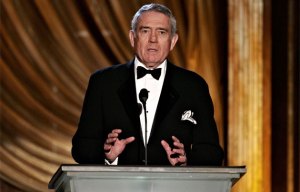 Dan Rather was back in court Tuesday afternoon for another round in his $70 million lawsuit against CBS.
In the latest development, Mr. Rather's legal team introduced a motion asking the judge for permission to amend their complaint for the second time. Marty Gold, Mr. Rather's lead attorney, said the judge had previously dismissed his client's fraud charges against CBS on the grounds that no specific damages had been listed in the earlier complaint. Mr. Gold said that this time around his team has prepared a more precise estimate of damages, based on the difference between Mr. Rather's former salary at CBS and his current salary at HDNet. The judge said he would rule on the motion soon.
In September of 2007, during an appearance on CNN's Larry King Live, Mr. Rather said that he was filing the lawsuit in part because new facts had come to light—particularly about the shortcomings of the independent panel, set up by CBS in the aftermath of Memogate, and headed by former U.S. Attorney General Dick Thornburgh and former head of the Associated Press Louis Boccardi.
On Tuesday, a lawyer representing the interests of the Thornburgh panel turned up at the hearing. Joanna Diakos, a partner at K & L Gates—the law firm where Mr. Thornburgh works—argued in court that the firm should not have to comply with Mr. Rather's subpoena requesting approximately 3,200 documents related to the commission. Ms. Diakos argued that the documents are protected by attorney-client privilege. Judge Ira Gammerman seemed skeptical and asked her to produce a sampling of the documents so he could look them over and decide.