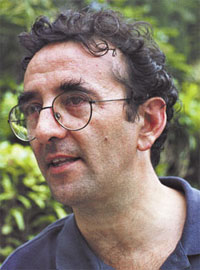 Is there more work to come from the late Roberto Bolaño? Leon Neyfakh reports that agent Andrew Wylie will be "flying to Barcelona next month to see what other work was left behind. Mr. Wylie said the papers in Bolaño's residence have not yet been rigorously reviewed, but that he understands there is more material, including several short works of fiction and a collection of poetry, that publishers will see 'in the course of time.'"
Felix Gillette checks in with WNBC where an "upheaval began back in May, when NBC executives announced that they would be restructuring WNBC's newsroom. As part of the transformation, NBC would be creating a new 24-hour local news channel, a revamped local news Web site and increased services for mobile news consumers."
How are business magazines responding to the financial crisis, wonders John Koblin. Portfolio editor Joanne Lipman says, "We've had more meetings… And one of the things we did is we made a list of every writer we had and what stories they're working on, and asked how their pieces are relevant, and has the landscape changed in a way to reshape their stories." Plus: Times' Beijing Bureau Chief Takes On India.