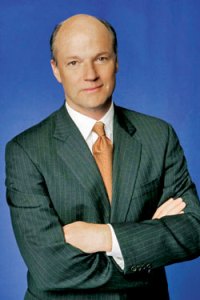 Felix Gillette talks to MSNBC president Phil Griffin, who says, "A lot of people like to make fun of cable… They think it's something for people who don't get news. No. It's for people who really understand news, want depth and want it from people they connect to."
John Koblin gets the details of Bill Keller's budget talks with New York Times staffers, including news about a special "investment fund" to help pay for Web site growth. Mr. Keller tells The Observer, "The money has gone to hire a small number of editors, reporters and producers. Most of the vertical expansions are already launched, and some of their work has appeared in the printed page as well." Plus: Notes on Black Friday: Maer's Pot of Gold, David Blum's Demise Foretold
Leon Neyfakh checks in with Markus Dohle newish C.E.O. Bertelsmann. "Mr. Dohle's presence has indeed been keenly felt," writes Mr. Neyfakh. "Just yesterday, it was announced that Random House's Doubleday division is eliminating 16 employees, including several prominent editors."
Plus: Gwyneth Paltrow, Web Mogul…Obama's Media Friends… Bicycling Dealer.