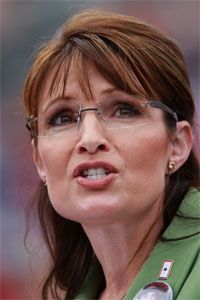 "My personal theory is that she's something that they can't grasp," CBS News commentator-turned-McCain advisor Nicolle Wallace tells Felix Gillette of Sarah Palin. "They don't know how to process her. She is beautiful, accomplished, successful, pro-gun and pro-life. They've never seen all those things in one package. She totally disorients many in the liberal media, especially a lot of the women."
John Koblin reports that Moneyball author Michael Lewis will be leaving Portfolio and The New York Times Magazine for an exclusive gig at Vanity Fair. "In the pantheon of great narrative journalists, Michael Lewis is pretty much at the top," says VF editor Graydon Carter. Plus: Times Metro Section's Big Flatbush Wake
Who will write the great non-fiction account of this election, wonders Leon Neyfakh. "[A]re these not extraordinary times? Even the skeptics seem to agree that this election has been one of the most captivating and unpredictable in history…"
Plus: Drop.io… Buffalo Guys… Darren Aronofsky.