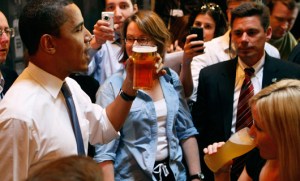 At least one Joe Six-Pack is not a fan of Sarah Palin.
"This is an old Republican ploy to try to relate to the common man," said Don Russell, who's been writing a beer column for the Philadelphia Daily News as "Joe Sixpack" for more than a decade now. (More people know him as Mr. Sixpack than Mr. Russell, he says.)
"The Republican Party, its interests are not the same as the common guy," Mr. Russell added. "Their interests are far from that, but politically they need this so-called regular guy. So that's what she's trying to appeal to. It's a classic tactic."
But, of course, the Joe Six-Pack whose endorsement Ms. Palin is touting on the campaign trail is not really a beer columnist in a newspaper.
But who exactly is he?
For one thing, he's always been political. If the armchair etymology of The New York Times' William Safire is an authority, the term made its debut in an Aug. 28, 1970, Boston Globe story by Marty Nolan. The story was about a Congressional race and was headlined, "After the Soul of Joe Six-Pack."
The term jelled over the following decades to mean just what Ms. Palin wants it to mean: Everyman, the high-sodium end of the salt-of-the-earth contingent, sitting down with a six-pack in a living room further away from the subtleties of D.C. and Manhattan power games than any geographical distance could put him.
Here was Ted Stevens, the now indicted senior senator from Ms. Palin's home state, thundering to The Times in October 1990 over New York Senator Daniel Patrick Moynihan's attempts to slash Social Security taxes: "We'd have to double every other revenue. … Tell that to Joe Six-Pack when he pays money for his beer in taxes."
But what happens when Joe Six-Pack gets wise to the wider world? What happens when the average beer acolyte becomes among the smartest Joes in the room?
BEER'S COME A LONG way since the birth of Joe Six-Pack (or, as Homer Simpson once put it, Joe Twelve-Pack). In 1970, there was barely any of what you'd today call craft or traditional beer, the sort brewed by microbreweries or home enthusiasts. It was all so much mass-produced fizzy American lager, the kind your uncle drank between bocce sets. By the end of the 1970s, there were 44 brewing companies in the U.S., according to trade group the Brewers Association; by the middle of 2008, there were 1,463; and, of those, 97 percent were craft brewers.
Craft brewers produced an estimated 4 million barrels (or 124 million gallons) of beer in the first six months of 2008. (And this doesn't include the craft brews from foreigners.) While the sales volume of craft beers grew 11 percent in 2007, the sales volume of the mass-production breweries—Anheuser-Bush InBev, MillerCoors, et al.—grew by just 1 percent; the same growth percentages basically held for 2006 as well.
Your average city six-pack, on even the grimiest bodega shelf, is as likely to have been brewed and bottled in St. Louis or Milwaukee as in Redmond, Ore., or Portsmouth, N.H.—or Chimay, Belgium, or Cork, Ireland. (Or Alaska! An employee at the Alaska Brewing Company on Sunday laughed at this column's topic; he noted that the Alaskan papers were calling the governor there "Sarah Six-Pack.")
Julie Johnson, the editor of All About Beer magazine, said the fancy beer boom has reverberated so loudly and so far that it's spawned its own hipster backlash, one any New Yorker of certain gentrified neighborhoods has encountered in the ubiquitous two-dollar Pabst Blue Ribbon special. The older, avuncular beer, Ms. Johnson says, gives its drinkers "borrowed working-class authenticity" without the hassles of actually, you know, being working class.
The backlash, as noted by a story in the magazine by Mr. Russell, likely started at Reed College in Oregon, one of the states at the forefront of the craft beer boom. Students adopted a tavern that had a regular P.B.R. special.
"They liked P.B.R. because they saw it as a brand that wasn't tainted by hype," Ms. Johnson said. "It didn't have anything that was suspect." And, ironically enough, it could serve as a metaphor for American economic hegemony: "The brand," Ms. Johnson explained of P.B.R., "had been going broke for a long time. It was once one of the biggest beer brands in the country, decades ago, but it had been in a slow, steady decline year after year."
Enter the hipsters and Joe Six-Pack as marketing ploy: authenticity in a can (or in a pair of jeans, or the plot of a big-budget movie, or the walls of a downtown condo, or a candidate to lead the Free World).
"You know," Ms. Johnson said, "it's funny—several months ago, when Barack Obama was in a beer bar and ordered a beer, what did he order? He ordered P.B.R. He got to it first. I haven't seen Sarah Palin actually drink street-cred beer."
So is Joe Six-Pack the unreconstructed Schlitz-in-a-can guy in the barcalounger? Or the anti-gentrification hipster with a job somewhere in Manhattan's giant left-wing conspiracy against America? Or, these days, is he more likely to settle down in a sleek-looking Jennifer Leather sectional in a Great Room, watching the game on a 42-inch flat-screen with a six-pack of Blue Point Toasted Lager?
"You can buy the best bottle of beer in the whole world for under 20 bucks at the very most," Mr. Russell of Joe Six-Pack fame in Philadelphia said. "So, this, to me, is the classic thing for Joe Six-Pack. Joe Six-Pack—he has high aspirations; he wants to enjoy the better things in life; there's no better way to do that than with beer because we can afford it.
"I can't afford a good wine. I can afford the very best beer, though."