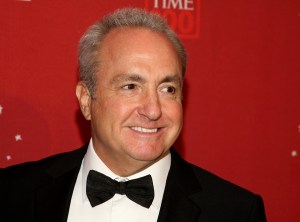 This has been a bellwether month for Lorne Michaels. Not only has Saturday Night Live seen its ratings rise some 161 percent from a year ago, but Mr. Michaels has been doing more interviews than the political figures his show regularly mocks. Lorne actually has talking points now! Seriously! He must have uttered the sentence "the audience cast Tina [Fey as Sarah Palin]" some thirty times to date. (Mr. Michaels says that more than Sarah Palin has said "I told congress thanks, but no thanks on that Bridge to Nowhere.")
The latest "exclusive" interview with the SNL Grand Poobah over at Entertainment Weekly covers much of the same terrain as many of those previous sit-downs. However what really jumped out at us was what Mr. Michaels had to say about the meeting between Ms. Fey and Ms. Palin.
We had assumed that the two barely spoke to each other during this past weekend's broadcast. It's clear that Ms. Fey doesn't like the Alaskan governor, saying recently that she'll leave earth if the McCain/Palin ticket wins, while also comparing her, in a round about way, to Billy Bob Thornton in Sling Blade. When asked about what happened backstage, Mr. Michaels said the two women "talked" and that there was no "kicking and screaming". That sounds like faint praise to us. If the best thing you can say is that they didn't get into a Brenda/Kelly type brawl, then it's likely they were a bit chilly towards each other.
Need further proof that these two ladies don't like each other? Probably not! But that won't stop us from offering this: when asked about why they didn't share any lines of dialogue, Mr. Michaels said that their on-screen conference would have been a "letdown". Hmm. That's doubtful. Remember how funny it was when Amy Poehler and Hillary Clinton mocked each other? We do! Come on, Lorne, we know it goes with the season, but do you have to be so political? Just admit that Tina Fey didn't want any part of Sarah Palin.
Meanwhile in show news, Mr. Michaels didn't mention anything about upcoming political cameos, but there are already rumblings that Barack Obama will be appearing on the November 1st broadcast. As for the new episode this weekend hosted by Jon Hamm, don't expect much. It looks like even politicians are intimidated by Don Draper.