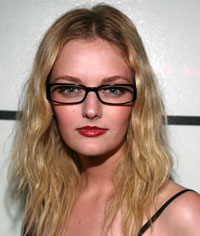 In her column in Page Six Magazine this week, socialite Lydia Hearst declares a 'shame on you' on her fellow socialites for continuing to party and worry about their wardrobes despite the current state of the economy. And while on the subject, Ms. Hearst even turns on her own family's empire:
Hearst Corporation, which my family owns, continues to host parties even as it folds magazines like CosmoGirl. From an objective point of view, it seems excessive. The crash in the '80s was a blip compared to what's happening now, so it's going to come as a shock when this trickles up into high society. At least Hearst recently canceled the company Christmas bash. It's time to work through this crisis, not party through it.
But according to Guest of a Guest, Ms. Hearst says she never wrote the statement above, which prompted her to resign from the magazine.
Her letter to The New York Post:
As a result of the article titled "Blood Dispute" in the October 24th issue of
Page Six
, I am compelled to resign from my position as Freelance Journalist for
Page Six Magazine
.
I did not, and would not, write such an article as the one to appear as my Page Six magazine column in this Sunday's Post.
To avoid hard feelings and break clean, I expect you to put my resignation, and my reason for it, in Page Six (newspaper) at the same time to coincide with the Sunday magazine column.
I can no longer continue my association as a journalist.
Regretfully,
Lydia Hearst
Ms. Hearst's publicist had "no comment" for Daily Transom as to how Ms. Hearst statements were misinterpreted or rewritten to possess an entirely different meaning from what she had intended. Perhaps one reason that Ms. Hearst's column didn't seem entirely unbelievable was because the socialite often expresses her contrarian views in the press, disapproving of her peers. Then again, we're not so sure Ms. Hearst is the type to bite the hand that feeds her.
As "The Hearst Chronicles" come to an end, the Daily Transom has assembled some of the best of Ms. Hearst's work for the magazine below.
On the election (June 22):
My vote will go to the candidate who focuses on bringing peace to the Middle East and healing rifts in this country. It is time to end the war and bring our troops home. Of course I am biased because my boyfriend [Matt Rains] has been deployed. But politicians have tiptoed around topics like same-sex marriage and the war long enough. It is time for our President, whoever he is, to take a stand and work toward a greater America.
On celebrity divorce (July 20):
Much as I try to avoid all this celebrity divorce nonsense, I can't. I get into a cab, and a crying Christie Brinkley appears on Taxi TV. Even so, I think we should all just leave Madonna and A-Rod alone. Who knows if their "affair" ­actually happened?
On her skin cream (August 31):
Egyptian Magic All-Purpose Skin Cream. I heard about it from Michelle Trachtenberg, who got it from someone who used to do Madonna's makeup. I swear by this product. If I get any kind of scar or burn, this stuff heals it. It really does work like magic.