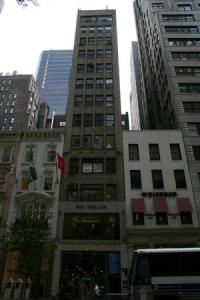 A Macklowe Properties-affiliated company has paid $5.35 million to buy out a lease at 38 East 57th Street, further consolidating control over the site where the family-owned firm has long planned to build some sort of hotel and condo project.
According to The Real Deal:
The move puts Macklowe Properties a step closer to full control of the building at 38 East 57th Street, which it bought last year for $60 million. Now company head, Harry Macklowe, only has to buy out or remove the remaining commercial sublease tenants in the building before he can demolish the building. A current tenant said less than half the building was occupied.
In February 2007, Macklowe's Dakotah Travel Co. paid $60 million for the 57th Street building in order to include it in the Drake project, but real estate investment firm Sovereign Partners' East 57th Street Leasehold Owner LLC, holds a lease for the entire building. Sovereign Partners is located in the building.
The 13-story, 30,000-square-foot office tower is the largest of seven buildings along 57th Street that Macklowe has been trying to assemble and then tear down to make way for a hotel and residential condominium. He already owns four of the seven buildings, according to property records, in addition to the Drake Hotel site on 56th Street.
3857 Realty LLC, a company related to Macklowe Properties, closed on the $5.35 million lease transfer October 7, according to the city records. The signatory on the lease transfer was Macklowe Properties' general counsel, Jason Grebin, identified as vice president of 3857 Realty.
This is just the latest in a series of developments at the Drake Hotel site. This summer, Macklowe Properties paid $16.6 million to buy out the lease of Audemars Piguet at 40 East 57th Street. Some insiders speculate that Macklowe Properties is seeking to consolidate its ownership of the site so it can increase its sale price, rather than move forward with the financially risky creation of a 70-story tower, as originally planned.