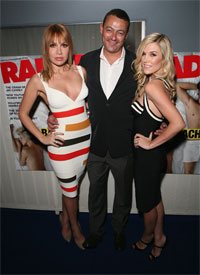 "I never worked with a better or more dedicated staff in my life. I'm sorry that we couldn't achieve the potential that I know this magazine has—had."
Media Mob just spoke with Maer Roshan, the editor of Radar, which is folding.
"What is so frustrating is that we seemed to have reached a turning point," he said. "You're dealing with independent investors and they saw the market and they were fearful about the future."
He said it seemed like a "strange time to pull the cord" since he felt Radar was finally hitting its stride. "They gave us 15 issues," he said. "Sixteen issues if they let the last issue, which is a week from being printed."
Over the last month or so, his investors had told him that they needed to find more investors in order to keep Radar alive. And it was only over the last three days that he was told he'd have to find the investors personally. This morning, they told him that he had run out of time.
"Up until today I thought we could still talk about options for the magazine—in fact, there were no options. They had made up their minds. The numbers were on our side. There were accomplishments on our side and the advertising support was on our side. I think this had a real chance of making it."
Mr. Roshan had to inform staffers at a late morning meeting that they had to leave the office immediately.
"The last time we had three issues," he said. "Every magazine needs five to seven years to break even. That's the rule of thumb, especially now. When we went into it, I was told they had five years and would commit five years. And they didn't because the money was going faster than they expected. When you look at Portfolio, which has $150 million and they opened at the same time as we did and has lower traffic on its Web site and lower newsstand circulation, I think we did a pretty good job."
AMI has purchased "radaronline.com" and it will re-create the Web site into a gossip site. Does Mr. Roshan have plans of joining up with that venture?
"They asked me and I haven't come to any conclusion," he said before pausing. "I don't think so."
Compared to the previous two times in which Radar closed, he said he felt "calmer" this time. "I'm more used to dealing with vagaries of investors who are not in the media," he said.