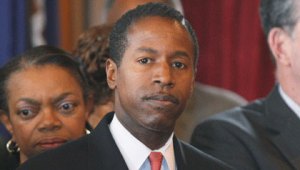 Democrats in the State Senate are getting a lot of money from people who want to see same-sex marriage pass that house and ultimately become law.
But while those same Senate Democrats may be more kindly disposed toward such legislation than the Republicans they're hoping to replace, not all of them seem quite prepared to say so. In fact, with seats in play in Republican-leaning areas of the state, the strategy right now seems to be to avoid talking about same-sex marriage at all costs. 
At a press conference this afternoon touting what they say is their impending victory, Democratic county leaders from around the state joined Senate Democratic leader Malcolm Smith on the City Hall Steps.
When asked about same-sex marriage, Smith decided to switch topics completely and talk about the economy instead.
"First of all, let's talk about what important for the people around the state, two basic things. One is reviving the upstate economy," he said. The other: "We want to do something about property taxes around the state of New York."
Smith then spoke about "rules reform" and making it easier to for bills to be voted on in the Senate.
When pressed on whether he'd support the passage a bill to legalize same-sex marriage, Smith again avoided the issue.
"I can tell you our priority is about the state economy. That's our number-one priority," he said.
The Assembly passed a bill last year legalizing it. And Governor David Paterson said at last week's fund-raiser for the Empire State Pride Agenda that he'd like to sign it into law.