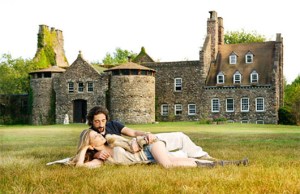 While some celebrity homeowners–Julian Schnabel for one–are hurrying to get rid of their lavish homes as the economy continues to dissolve, others are taking to the old tradition of "nesting," a term that gained currency post 9/11 when (as USA Today wrote in January 2002) people started "spending more time at home" and "feathering [their] nests with more elaborate and entertaining diversions." (Does that mean we can finally get a Wii?)
Indeed, high-profile New Yorkers have recently taken to remodeling their homes to make them more livable. Some have even taken to acquiring (additional?) weekend homes to get away from all the negative talk of the economy around the city. 
Adrien Brody bought his girlfriend, actress Elsa Pataky, the Stone Barn Castle in Cleveland, NY for her 31st birthday last year, reported Cityfile. But only now is the couple finally decorating and moving in. (Interiors of the couple's "cocoon" are by Armani.)
Also on Cityfile are photos of Woody Allen and wife Soon-Yi's newly redecorated townhouse on East 70th Street. And as far as the analogy to nesting goes, this one probably comes the closest: There's a cozy grandpa feel to the whole place, which features rustic country furniture, rocking chairs, and quaint wallpaper. 
Meanwhile, the Times has come out with a story about a rise in people buying vacation homes as people look to have weekend escapes from the city. (The lead example is a modeling agent at Wilhelmina.) And a separate story in the paper provides a slideshow of Tim and Nina Zagat's newly renovated country farmhouse near Millerton, N.Y., where they drive up on Thursdays from their Central Park West apartment. 
While this may not seem like the ideal time for wealthy New Yorkers to be redecorating, as everyone starts to avoid the airports, restaurants, and maybe even the decadent New York parties, perhaps the city's recognizable faces will all begin to go into hibernation.