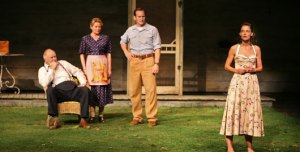 Simon McBurney, the avant-garde theater director, is the only director I've ever seen to take a bow not only after his own shows, but before. It wasn't always so in the earlier days of Complicité, his London-based troupe with the French name. But the more successful Mr. McBurney has become, the more his vanity has gotten out of hand.
His preening custom of introducing his own productions before the curtain rises manages to upstage his cast and has been known to include embarrassing requests for audience participation. I've also seen him called up onstage post-performance to take a most reluctant bow along with his actors (thereby upstaging them once again).
It must be hard for anyone to be directed by Simon McBurney. He's the Mark Morris of theater. He sucks up all the glory. But when a director does that, he must also take all the knocks, should they become due.
They're due.
I hailed Mr. McBurney's early work—above all The Three Lives of Lucie Cabrol (1992) and Street of Crocodiles (1994)—as supreme examples of a post-Brook theater of imaginative simplicity. Complicité's compelling stories of great beauty were like life rafts to me in an awesomely literal theater age. But with Mr. McBurney's later, lesser work, I've become more and more like a disappointed lover.
Mr. McBurney's The Elephant Vanishes (2003), for example—a comment on the nightmare of modern urban technology—became a victim of its own shallow technological tricks (including borrowed images from the fine experimental work of Robert Lepage). His post-9/11 production of Brecht's The Irresistible Rise of Arturo Ui, starring Al Pacino, turned the play into a glibly provocative metaphor for a Nazified America while misunderstanding Brecht's entire intention.
TRUE TO FORM, the director doesn't allow us to forget for a second that the revival of Arthur Miller's All My Sons on Broadway is "A Simon McBurney Production." That would be O.K. if the outcome had any real merit. The sorry news is that he's ruined Miller's 1947 play in a calamity of misdirection and ego.
Mr. McBurney doesn't open and close All My Sons in person, only in spirit: His star, John Lithgow, troops onstage before the curtain goes up, accompanied by the entire cast, to welcome us all to the Gerald Schoenfeld Theatre, where, he informs us, they will be performing All My Sons (by Arthur Miller). After a few desultory words about the play, the personable Mr. Lithgow announced, to sheepish grins from the cast, "I feel obliged to tell you about the bandage on my hand." 
Apparently, he'd had a fall recently in the wings—but it was absolutely nothing to worry about, he told us stoically, as a thousand pair of eyes focused on a rather small bandage on his hand.
It's surprising he didn't go on to tell us what he ate for lunch. Perhaps there wasn't time.
Whereas Miller's play opens in the modest backyard of Joe Keller's home with the muted, neighborly line "Where's your tobacco?" Mr. McBurney's overblown production starts with the biggest, loudest storm scene since the satire of Sir Donald Wolfit's mad King Lear drowning in the storm on the heath in Ronald Harwood's The Dresser. A deranged figure appears—it's Dianne Wiest as Kate Keller—desperately reaching out to the heavens and howling into the wind.
The operatic storm scene has obviously been tacked on to stamp Mr. McBurney' indelible mark on the play. But it's the wrong mark: He's piling histrionic melodrama on top of melodrama.
The flaws and stumbles of dramaturgy in All My Sons are no secret. (Miller's first commercial success, it came two years before Death of a Salesman.) All My Sons is a play that undeniably suffers from dramatic excess—the belated revelations of a confessional letter, the last-minute news of a suicide, then the suicide of the hero in the climactic last moments.