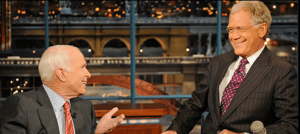 On Thursday afternoon, during a taping of CBS's Late Show at the Ed Sullivan Theater in New York, Senator John McCain apologized to David Letterman for skipping out on an interview with the late night comedian at the last minute some three weeks earlier.
"What exactly happened?" asked Mr. Letterman.
"I screwed up," said Senator McCain.
Mr. Letterman has since taken to battering Senator McCain during his monologues on a more or less nightly basis. Senator McCain's return to the show was much anticipated. But according to The Washington Post, Senator McCain almost missed Thursday's taping—and had to take a helicopter to the show in order not to stand up Mr. Letterman for a second time.
After taking a couple of shots at Senator McCain during his opening monologue, Mr. Letterman told the Arizona senator at one point during Thursday's interview that he was "willing to put this behind us."
But the Late Show host then proceeded to grill Senator McCain on a number of touchy issues: His choice of Sarah Palin as a running mate; the extreme nastiness that has on occasion broken out at Senator McCain and Governor Palin's political rallies in recent weeks; the political legitimacy of trying to tie Senator Obama to Bill Ayers; the validity of some of Governor Palin's public statements; and, over and over again, Governor Palin's fitness for the highest political office in the land.
"Have we fairly well exhausted this subject?" asked Senator McCain at one point.
For the most part, Senator McCain kept his cool. At times, however, he seemed at a loss to answer some of Mr. Letterman's more pointed questions.
At one point, Mr. Letterman pressed him about Governor Palin's repeated assertions that Senator Obama has palled around with "terrorists." Even if you accept the dicey notion that Senator Obama once palled around with Mr. Ayers (and that Mr. Ayers qualifies as a "terrorist") how does that add up to multiple "terrorists," Mr. Letterman asked.
"There are millions of words said in politics," said Mr. McCain. "Come on."