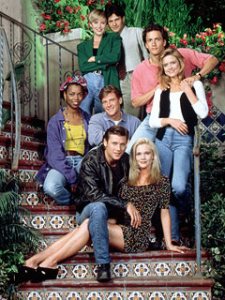 With the news that The CW is looking to reboot Melrose Place for next year, we know we should be very upset. It's just yet another example, in a long line of examples, where television executives have neither the care, nor sense of originality, to do something different. However! We like this idea!
Fact is, with the exception of How I Met Your Mother, Grey's Anatomy and the Jim/Pam storyline on The Office, television shows about people in their late 20s and early 30s are a lot less common than you might think. And after viewing the underage burlesque show that was this week's Gossip Girl, we can't say we're broken up at the prospect of 20-something actors playing actual 20-somethings (and not, you know, teenagers). So what if it's in the package of Melrose Place? It could be a good jumping off point for something really fun and, in its own ridiculous way, original.
At the very least, the existence of another Melrose Place probably won't make us question our own humanity. Well, as much. Sure the original series was Dynasty on steroids, but nowadays, Melrose Place would seem old-fashioned. Lest we forget, the 90s were a long time ago! And with the television landscape filled with rich and powerful excess, it would be exciting to see the lives of the regular, old working class spread out across an hour-long television series.
Of course all of this is contingent on who comes aboard as show runner, a position which obviously hasn't been filled as yet. We'd love to suggest Josh Schwartz (or a Josh Schwartz protégé like Stephanie Savage), but he's got enough going on. Hopefully The CW picks a new face to shepherd this show; a fresh set of eyes that can take Melrose Place and make it relevant for the 00s. And if they're looking for a star, might we suggest the new 90210's resident awesome teacher, Ryan Eggold. With increasingly less to do at West Beverly (since you haven't been watching, he's currently starting a relationship with an undercover narc pretending to be a high school student… yep, you read that right), he's certainly primed to change zip codes.