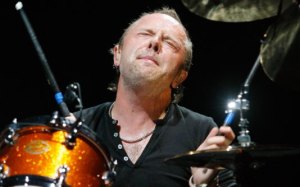 Ever wonder which songs get played the most at those digital jukeboxes popping up in the corner of every bar and club? Well, we do! Thankfully, eCast—the maker of many of those touch-screen wonders—has a list of the most played songs during the month of September. And surprsiingly (or not), Metallica scored six of the ten slots—each from their controversial new record, Death Magnetic. The list below comes courtesy of our friends at Idolator:
1. Metallica, "The Day That Never Comes"
2. Ne-Yo, "Miss Independent"
3. Metallica, "The Unforgiven III"
4. Buckcherry, "Too Drunk To Fuck"
5. Kanye West, "Love Lockdown"
6. Metallica, "All Nightmare Long"
7. Metallica, "That Was Just Your Life"
8. Metallica, "Cyanide"
9. Metallica, "Broken, Beat & Scarred"
10. Ne-Yo, "Closer"
That Ne-Yo and Kanye managed to squeeze their way into all that angry-man rock, proves that even if you're "too drunk to fuck," you're not too drunk to cuddle. As for the angry-man rock, that may have something to do with election anxiety and the need for a little high-decibel release. Though the big question, as Idolator points out, is just what those Metallica tunes actually sound like coming out of those digital jukeboxes. We're guessing not too good. As the Wall Street Journal and others have pointed out, Death Magnetic was ruthlessly compressed to sound as loud as humanely possible, and many fans aren't happy. Of course, when you're at a bar, audio fidelity isn't your primary concern. Drink specials are.