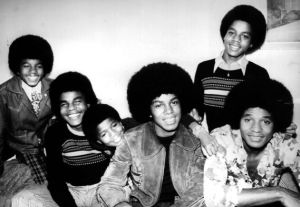 Led Zeppelin aren't the only ones having trouble getting their frontman in line for a reunion tour. While in Sydney to launch a new TV channel, Jermaine Jackson told the Australian Associated Press on Wednesday that the Jackson 5 would reunite in 2009. And, yes, everybody would be involved. "It is going to be more like a family affair," he explained to the Aussie AP. "Janet's going to open and, of course, the original Jackson 5 … Michael, Randy and the whole family … We're in the studio, we're planning on being out there next year." Beyond the issue of Janet's vertigo, would Jermaine and his bros really be able to wrestle Michael away from his favorite past-time: wandering with his children hrough the streets of Las Vegas clad only in pajama bottoms and tuxedo?
Apparently, not. According to billboard.com, the King of Pop issued a statement yesterday saying his Immanency would certainly not be participating in any reunion. "My brothers and sisters have my full love and support, and we've certainly shared many great experiences," Jackson says. "But at this time I have no plans to record or tour with them." So what are his plans? Says Jackson: "I am now in the studio developing new and exciting projects that I look forward to sharing with my fans in concert soon." Oh, so Michael just wants to focus on resurrecting his solo career—the success of which seems even less likely than a Jackson 5 reunion.
Still, maybe it's for the best. We love the Jackson 5, but the thought of this 50-year-old doing this song live again, sorta makes us squirm.