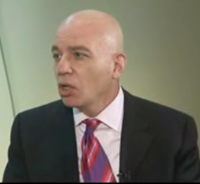 While we had him on the phone talking about Rupert Murdoch, we thought we'd ask Michael Wolff what he thought of The Daily Beast, the new Web site from Tina Brown that is in plain competition with Newser.com, the news aggregator site that Mr. Wolff started last year.
Mr. Wolff first shared his thoughts on The Daily Beast back in April, when he told Gawker that he didn't expect much out of Ms. Brown because last he'd heard she didn't know how to check her email.
He was no gentler today.
"I think it's preposterous," Mr. Wolff said. "I don't even think it's a rehash of Talk—I think it's a rehash of [CNBC's] Topic A."
He said that while he does consider The Daily Beast—which Ms. Brown discussed at length here with Lloyd Grove on Portfolio.com today—to be in competition with Newser, he doesn't think news aggregation is Ms. Brown's top priority.
"She's not a news aggregator, although that is her pretense for doing something Web-like," he said. "In fact, she's just an old magazine hack. So I've taken a look at it, sure, but Jesus, who wants to read all those old guys? It's like she's been on ice for ten years and suddenly she's been thawed out again."
Mr. Wolff made the case for Newser: "I would argue that Newser is kind of state of the art, for better or worse. It is what a Web news product has to be. With a Web news product, no one wants you to write new stuff. No one wants new stuff. People want less, not more. And she doesn't want to do that. She has this little bow towards aggregation, but she's just gone back to paying people as much money as she could possibly pay them to seem like she's the fashionable person on the block.
"To me, that's not an ultimately profitable web strategy," he continued. "And also she's spending eighteen million dollars. I guarantee you it will never be profitable."
Having heard Mr. Wolff's remarks, a representative for The Daily Beast declined to comment.