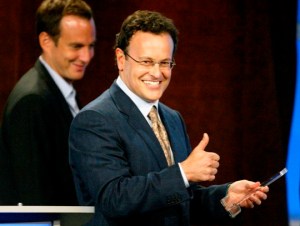 As Arrested Development devotees, we're always excited to see what the show's creator, Mitch Hurwitz, has next in store for us . Thankfully, he's been busy lately! Variety reports that his latest project will be a remake of the hit British sit-com Absolutely Fabulous. Mr. Hurwitz will executive produce the series, with help from the original series' creator and star, Jennifer Saunders. Saturday Night Live writer Christine Zander will pen the script.
Ms. Saunders' presence should help quell some of the inevitable hating that goes with remaking a beloved British series. With Ricky Gervais and Stephen Merchant on as producers, the Americanized version of The Office has stayed away from vitriol; many people just see the British version as superior, instead of bagging on the American one. Meanwhile on the flip side, an apparent Spaced remake was doomed after Simon Pegg buried it because no one bothered to ask him for help. The new version has been subsequently pulled.
As for Absolutely Fabulous, we were never fans of the show once it came stateside on Comedy Central. However, Mr. Hurwitz has a great track record with boozy ladies of a certain age. Anyone who can create a character like Lucille Bluth can certainly handle the scandal of women like Edina and Patsy.
The one problem: when does Mr. Hurwitz plan on making the Arrested Development movie? Between this project, and his idea for a spy-dramedy hybrid that NBC picked up last week, it's appearing more and more likely that Michael Cera's recent proclamations about there not being an Arrested Development movie in sight are true. Sigh! For fans like us, it might be time to cue the Charlie Brown theme.