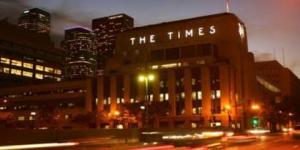 Can it get any worse for The Los Angeles Times?
In a year when the paper has cut far more editorial staffers than any paper in the country, it appears the're not quite done yet.
Keven Roderick at LA Observed is reporting that more job cuts are on the way, and the number could be as high as 75 editorial positions.
Among those expected to lose their job is Leo Wolinsky, the assocate editor of the paper, according to two souces who spoke to Media Mob.
Sources also told us the job cut rumors have been flying for a few weeks now. One source tells us that the number will be about 50 people let go.
Either way, it's the third round of cuts this year for the paper. In February the paper cut over 100 jobs company wide; in July, the paper cut 135 newsroom jobs. This move would also put the newsroom total close to 650, down from 1,200 just seven years ago.
This would be the first round of cuts under new publisher Eddy Hartenstein. Back in August, at his first meeting with Times staffers, he didn't make any promises, but suggested that he might be able to stop the bleeding.
"But you know, no one believed him!" said one source at the paper.