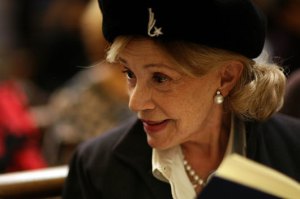 One Day You'll Understand (Plus Tard)
Running time 90 minutes
Written by Maria Jose Sanselme and Amos Gitai
Directed by Amos Gitai
Starring Hippolyte Girardot, Jeanne Moreau, Dominique Blane, Emmanuelle Devos
Amos Gitai's One Day You'll Understand (Plus Tard), from a screenplay (in French with English subtitles) by Marie-Jose Sanselme and Amos Gitai, is based on a story by Dan Franck and Jérôme Cléments, derived from Mr. Cléments' novel. The genesis of the film is explained in the Director's Statement: "When I was 17, I went to Paris to spend some time with a friend of my father's. I remember a dinner where a French historian was present. The historian began a defense of Marshal Pétain (chief of state of Vichy France), explaining that he acted like a real patriot because it had been impossible to oppose the Germans without risking the destruction of the entire country. Of course, I was shocked by this, but his emphasis was an eye-opener. The fate of the Jews had no place in his reasoning. He saw everything from the point of view of France and the French, but by completely excluding the French Jews."
Compared to Claude Miller's stirring A Secret (Un Secret) last year, Mr. Gitai's film is a minimalist treatment of the deadly French collaborationist and anti-Semitic frenzies during the German occupation from 1940 to 1944. Indeed, much of One Day You'll Understand is built around the drastically differing fates of French mixed Catholic and Jewish married couples with their Catholic baptized children as opposed to the married couples and their children who were entirely Jewish.
Victor Bastien (Hippolyte Girardot) is a French Catholic businessman who becomes distracted from his work when he discovers a letter from his late father to the police authorities identifying (and almost glorifying) himself as the "Aryan" husband of a Jewish wife. Victor is outraged by this act of his late father, especially since his still living mother, Rivka (Jeanne Moreau), refuses to shed any light on the subject. To make matters worse, Victor's sister, Tania (Dominique Blane), stubbornly defends her father's action as a necessary tactic to save both himself and his wife from deportation. As for Victor's wife, Françoise (Emmanuelle Devos), a professed atheist, she takes a neutral position in the tug of war between Victor and his mother.
What tension there is in the situation is completely dissipated when Rivka ultimately tells all. Victor then takes his family to the small village where his maternal Jewish grandparents fled for shelter after they had been driven from the Parisian family pharmacy they owned. In the village, Victor encounters a witness to the police raid that resulted in his grandparents being sent to Auschwitz.
At the end of the film, Victor confronts the reparations bureaucracy that seeks pathetically to place a monetary price on the persecution perpetrated by the Vichy government and its Nazi overlords. Victor walks away from the negotiations as if to indicate that mere money can never erase the bitterness and anguish that he and survivors like him will feel till the end of their lives.
The casting of 80-year-old Jeanne Moreau, that eternally winsome temptress of cinema, in the role of Rivka, provides much of the raison d'être for the project. It is only the latest manifestation of the deep respect the French cinema has always shown for its aging actresses and actors.
asarris@observer.com