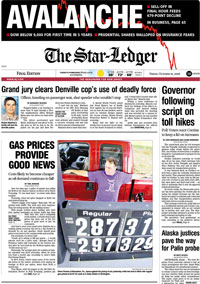 Donald Newhouse wanted 200 Star-Ledger staffers to raise their hand and request a buyout. If a few more asked, he said he would accept up to 230.
Today, the New York Post's Keith Kelly reports that far more Ledger staffers actually want the buyout. A whopping 409 employees have requested a buyout, leaving Mr. Newhouse, publisher George Arwady and editor in chief Jim Willse in the position of buying out 230 people, and turning away 179.
The paper employs a non-union workforce of 756 people, meaning more than half of its employees have requested to jump ship.