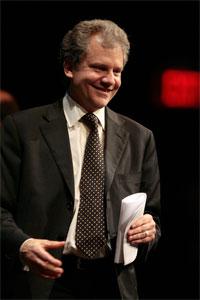 At yesterday's Times State of the Newsroom meeting, a staffer asked executive editor Bill Keller if the paper was running out of money. Mr. Keller handed the mic over to New York Times President and General Manager Scott Heekin-Canedy who said, definitively, no.
"We have the ability to pay our debt, we're not concerned about it, we're watching it carefully in these credit markets, our liquidity is sound and our pension funds are fully funded and will be all through 2009 and beyond as far as we can see," he said.
The staffer also asked about an item written by Silicon Alley Insider co-founder Henry Blodget that followed this premise with an argument about the Times Company's financial position:
the New York Times (NYT) is approaching the point where it will have to manage its business primarily to conserve cash and avoid defaulting on its debt. This situation will only get worse as advertising revenue continues to fall, and it will be very serious by early next year.
Mr. Heekin-Canedy said he didn't have much respect for Mr. Blodget's "so-called analysis."
"There was not much to it other than speculation, and maybe even a fair bit of whimsy," he said. "It was in complete contradiction to the statements made by [Times Company CEO] Janet [Robinson] and [Times Company CFO] Jim Follo at our earnings call on Thursday. Jim Follo was asked a question about our liquidity and our ability to handle our debt–point blank–and he was also asked about the health of our pension funds and he answered them about as unambiguously as you can."
Update, 4:05 P.M.: Headline and first paragraph were changed to reflect Mr. Heekin-Canedy's actual title, President of The New York Times.