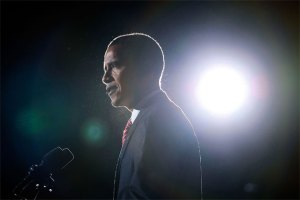 For the third presidential election in a row, Slate has asked its staffers and contributors to tell the world who they're voting for.
The winner? Democrat Barack Obama, who beat Republican John McCain with 55 out of 62 staffers asked.
Not voting for Senator Obama: Deputy Managing Editor and Copy Chief Rachel Larimore, who's voting for Senator McCain because, "He's a man I admire, I agree with many of his policy positions, and, since I am a moderate but loyal Republican, I feel a kind of kinship with him." Ever the contrarian, Jack Shafer casts his vote for Bob Barr because, "I've cast a ballot for the Libertarian Party candidate for president in every election since I cast my first…"
Not voting: Supreme Court correspondent Dahlia Lithwick who admits, "I will not vote. I am still Canadian" (keep trying, Dahlia!) and and Editorial Assistant Karim Bardeesy, who is also from Canada. Shmuel Rosner who also pleads, "I'm an Israeli, not an American" and Intern Sophie Gilbert, who is English, says, "unfortunately I don't have a vote."
Most of the Slatesters offer explanations for their choices, but we're not sure if they're just voting for Senator Obama to ensure continued sales of their book, Obamania!: The English Language, Barackafied.